Lee Tiah Khee managed to photograph a family of Pied Fantail (Rhipidura javanica) at the nest, something that is not an easy thing to do. Usually, as one adult arrives, the other flies off.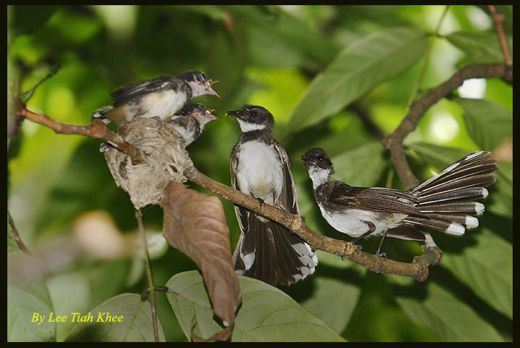 The nest is a neat cup bound firmly onto the slender prongs of a near-horizontal branch fork. According to Wells (2007), the nest is made of bamboo leaves or lalang grass (Imperata cylindrical) and other dead leaves. On the outside of the nest are fungal hyphae, cobwebs and hairs. The inner cup is lined with fine fibres, sometimes with some dried mud.
Both adults help in nest building, incubation and brooding.
Usually two eggs are laid at an interval of one day and once the last egg is laid, incubation begins. Incubation period has been reported to be 12-15 days, fledging 14-15 days.
The two chicks in the picture were photographed just before they fledged.
Reference:
Wells, D.R. (2007). The birds of the Thai-Malay Peninsular. Vol. II, Passerines. Christopher Helm, London.
This post is a cooperative effort between www.naturepixels.org and BESG to bring the study of bird behaviour through photography to a wider audience.