The Paddyfield Pipit (Anthus rufulus) is a common resident in Singapore and Malaysia (left). It is found in open fields, grasslands and parks. It builds The bird builds its nest at ground level, in a slight depression, lined with dried stems, grass and fibres. The near-circular top is slightly overgrown with vegetation, providing excellent camouflage.
It is not often that the nest is located and photographed – Nelson Khor being one of the few and he is sharing his images here with viewers (below). He noted that there is every chance of the nest being trampled by people bashing through the light growth.
.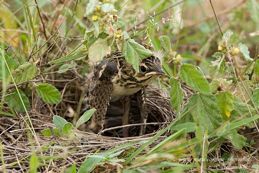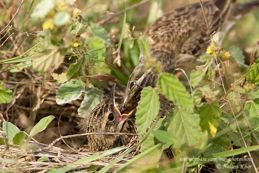 The single chick seen inside the nest was fed by the adult with caterpillars. Its tufts of natal downs can still be seen on each side of the head just above the eyes (above right). The yellow flanges lining the mouth are obvious in the chick, remaining prominent well after fledging.
This post is a cooperative effort between www.naturepixels.org and BESG to bring the study of bird behaviour through photography to a wider audience.