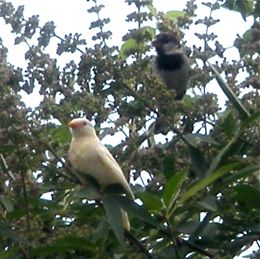 In August 2008, Cherylyn Straubmuller wrote: "Recently, an albino chickadee has been coming to eat at our feeders in New Jersey, US. Although our camera isn't the best, we have some great pictures of her, if you would like to see them. Her mate constantly takes care of her, feeding and grooming."
Subsequently, Cherylyn added: "The albino can fly well, however, it will land on the feeders but not feed from them. It has landed on the ground and pecked seed. This is the third day that it has visited."
We were delighted to hear from a birder in the United States and to publish her observation.
Normally, an albino bird would be an outcast in its flock. As it looks different from the others, it would be taken as an outsider, another species altogether. We suspect that the albino bird is a recently fledged chickadee and the parent is still feeding it.
NOTE: Nick Sly (see comment) has since pointed out that the bird is actually a House Sparrow. We have changed the title accordingly. We apologise for the error and thank Nick for pointing out the misidentification.
An earlier post shows an albino Javan Myna (Acridotheres javanicus) being accepted by others of its species.