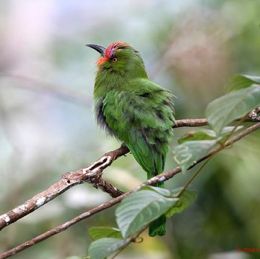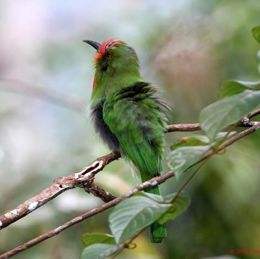 .
.
.
.
.
.
.
.
.
.
.
.
.
Most birders are familiar with the green plumage of the Red-bearded Bee-eater (Nyctyornis amictus) – and of course the distinctive shaggy red beard characteristic of the species.
But how many are aware that hidden under the external green feathers are black feathers?
Roger Moo a.k.a. cactus400D photographed a Red-bearded Bee-eater when it was fluffing its plumage and noticed that the inner feathers are black. He wonders:
"We all thought the feather are all green till he flutters his wings and feathers… underneath are all black. Here are two photos…"
Bird photographer KC Tsang believes that the blackness is not due to photographic artifact. Field ornithologist Wang Luan Keng informs that the body feathers of birds may be of a different colour from that of the external feathers. Also, the lower portion of a feather may be differently coloured from that of the upper portion. This may not be always obvious as the lower portion is usually covered, due to the overlapping of feathers.
A physical examination of the feathers of a live or preserved specimen will provide a more definite answer.
All images by Roger Moo.
This post is a cooperative effort between www.naturepixels.org and BESG to bring the study of bird behaviour through photography to a wider audience.