Ingo Waschkies was in Belum-Temenggor, Malaysia recently and documented the annual gathering of the Plain-pouched Hornbill (Rhyticeros subruficollis) (above). The fig trees around Tasek Temenggor, an artificial lake created by the damming of the Perak River were in fruits.
Large flocks of the hornbill arrived via a few flight corridors to feast on the figs. Ingo reported that there were around two to three thousand birds flying over the lake: "…Some spectacular groups had more than 50 birds with the max being just over 80! This must surely count among the most spectacular bird sights in Malaysia."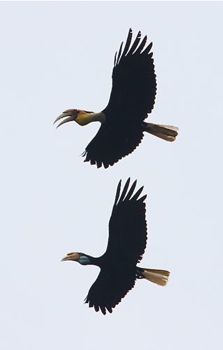 The Plain-pouched Hornbill occurs in Peninsular Malaysia, west and south Thailand and south Myanmar. The male has a bright orange-yellow pouch (left top) while the female is smaller, has an all-black head and neck and a sky-blue pouch (left bottom). Apparently these hornbills arrive annually to coincide with the figging of the trees.
There are many, including experienced birders, who mistakenly refer to these arrivals as annual migration. This is actually a local "migration" and definitely not a migration in the true sense of the word. After all, the majority of the hornbills are basically sedentary and the Plain-pouched definitely do not migrate to winter elsewhere.
Generally, hornbills congregate in large flocks to forage. Such foraging flocks are relatively stable and move in a unit. There is also feeding flocks where birds gather in large numbers for part of a day, a full day or even many days. These are temporary flocks where the birds arrive and leave in an uncoordinated manner. A third type of flocking is the communal roost, formed as foraging flocks gather in the evening.
The arrival of the Plain-pouch Hornbills to Malaysia from Thailand most probably, is a forging flock. Once arrived, the daily morning gathering in Temenggor as seen by Ingo is probably feeding flocks. In the evenings they fly off en masse as a roosting flock.
All images by Ingo Waschkies.
References:
1. Kemp, A. C. (2001). Family Bucerotidae (Hornbills). Pp. 436-523 in: del Hoyo, J., Elliott, A. & Sargatal, J. eds. (2001). Handbook of the birds of the world. Vol. 6. Mousebirds to Hornbills. Barcelona: Lynx Editions.
2. Kinnaird, M. F. & O'Brien, T. G. (2007). The ecology and conservation of Asian hornbills: Farmers of the forest. University of Chicago Press.
This post is a cooperative effort between www.naturepixels.org and BESG to bring the study of bird behaviour through photography to a wider audience.