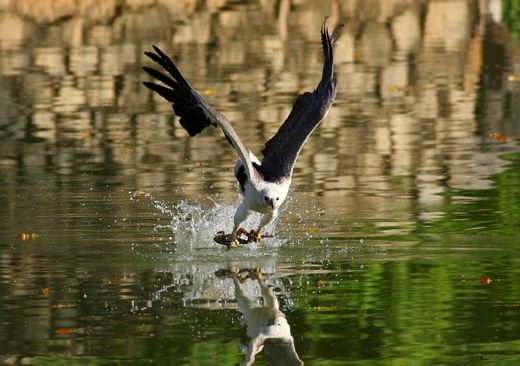 "Came across a White-bellied Sea-eagle (Haliaeetus leucogaster) snatching a frog from the surface of a pond at Bt Panjang area on 10th June 2008," wrote Eddy Lee Kam Pang (above). This is a sequence to his encounter two months earlier with a sea-eagle catching a rat in a monsoon drain.
"This was my first time seeing such an action. A frog is surely not a regular prey item for this bird. Its usual diet consists mostly fishes, though I had seen this bird taking a rat previously in the same area.
"Was there a shortage of food source such as fish that drived this bird into hunting something else or was it purely by chance that the eagle spotted its easy target, need to be seen.
"The frog must had taken great risk swimming in the pond as there were other aquatc predators around, predators such as the Toman fish and Water Monitors formed part of the residents in the area as well.
"Whatever it was, we can safely add one more prey item to the eagle's food source list."
And as far as catching a rat is concerned, there was also a May 2006 post detailing the sea-eagle catching the rodent in the sea off the coast in Changi.