Lee Tiah Khee has been keeping watch on a pair of Red-wattled Lapwing (Vanellus indicus) at the Sungei Buloh Wetland Reserve since late May 2008 (above).
In early June he documented the two adults taking turns incubating the three eggs (below). Then he returned to the site on 14th June. It was raining heavily then but the pair was still incubating the eggs.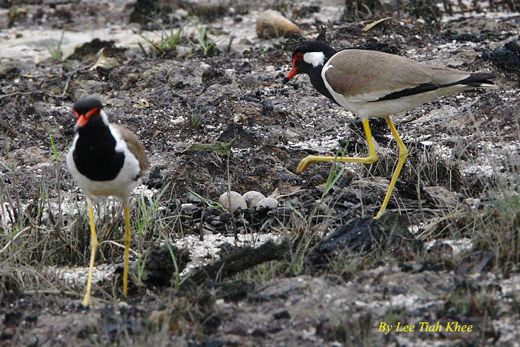 Two days later when he next visited, hoping to see the chicks, he was disappointed to find only two eggs left. That evening, these remaining two eggs also disappeared.
The eggs must have been predated somehow.
This lapwing is a rare resident. However, the population is slowly increasing as more sightings and nesting have been reported.
All images by Lee Tiah Khee, taken 50m away with a 800mm lens with a x2 converter attached.

This post is a cooperative effort between www.naturepixels.org and BESG to bring the study of bird behaviour through photography to a wider audience.