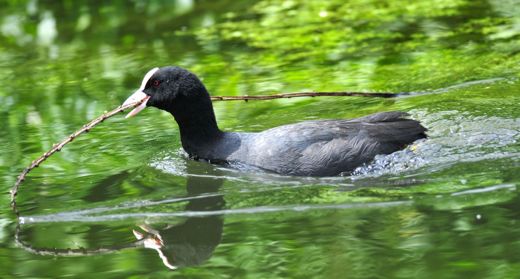 The Common Coot (Fulica atra) is a large bird that is generally quarrelsome. The charcoal plumage and flashy bill shield make it easy to recognise. The image above was taken by KC Tsang when he visited the London Wetland Centre in June 2008.
Found frequently in still or slow-moving freshwaters, the coot is a fully aquatic bird. It takes to the air rather reluctantly but they are strong fliers, compared to others in the family.
An unusual adaptation to its life in water is the large, scalloped toes (left top). These enlarged lateral lobes provide for efficient swimming. On land, the bird appears clumsy when moving around.
The lower image on the left shows the foot of the American Coot (F. americana), with the lobes folding when the foot is moved forward so that they will not cause drag. The lobes will fold out when traction is needed with backward movement.
Coots used to be popularly eaten in Britain at one time. Traditional coot shoots were once organized at large wetlands where huge winter flocks were common. And large numbers were shot for sport and food.
Richard Carden wrote: "Coming from the UK where coots are incredibly common and having lived in HK & Japan where coots are not uncommon, I was surprised that they are such a rare bird in this part of the world
"This was highlighted to me a couple of years ago in Bali. I was birding with Victor Mason, an infamous character, author of at least two Bali bird books and founder of Bali bird walks which has been operating for at least 30 years. We were searching for white browed crake when my girlfriend Kaori shouted that she had found one, she pointed to the middle of the lake where there was a very obvious coot paddling around. Calming her down and telling her she had not found our target bird it was just 'O-ban', the Japanese name for common coot, I shouted over to Victor, false alarm, just a common coot. Without shifting his gaze from the lake edge and the crake search Victor said impossible there are no coots in Bali. There are now I said, at least eight of them ! Victor nearly fell in the lake, it was his first new bird for Bali in more than 10 years. Last recorded in Bali in 1953 I believe and only a couple of other times in the last century
"The moral of the story I guess is that one of the things that makes our shared hobby so interesting is you never know what will turn up and when.
"Hope Kaori can find us some coots in Singapore."
Well, there was a confirmed sighting of the coot in 1940 and two others in the 1980s. These, no doubt were rare vagrants. None have been seen since.
Images of Common Coot by KC Tsang, that of American Coot by Joyce Tan of Palo Alto, California, US.