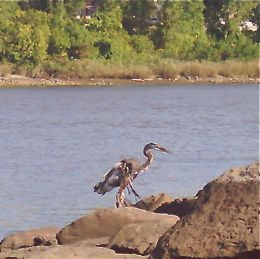 Our post on the injured Purple Heron at the Sungei Buloh Wetland Reserve attracted the attention of Summer Fey Foovay of Tulsa, Oklahoma, USA.
She encountered and documented an injured adult Great Blue Heron (Ardea herodias) way back in October 2005 on one of the two Tern Islands. She found out from the vet that as the injury was old, the wing could not be saved. And a single winged heron could not possibly survive in the wild. This meant that it could not be returned to the wild after rescue and, according to procedure, would be euthanised.
Rather than traumatise the bird by sending it to the vet to have it eventually euthanised, Summer left the bird alone on the island. There, she would be safe from predators and it could live whatever was left of its natural life in relative peace. Below is Summer's story: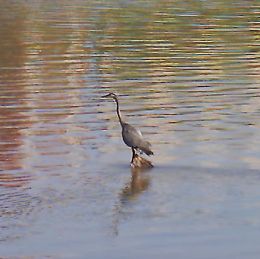 "She was so grievously injured and yet she went on doing what herons do – even raising and fledging three young herons that season.
"She was safe there from most of our local predators (feral cats, foxes, the occasional bald eagle and hawks) with both cover and fast running water between herself and the river bank.
"…The first time I saw her the wing was already almost nothing but bones as you can see in the photos, so it wasn't a recent injury even then. The wildlife officer I contacted said she had probably collided with a power line – a common occurrence in that area.
.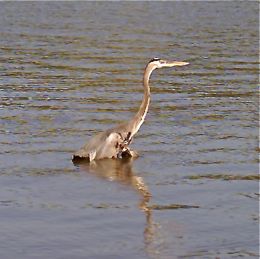 In December, "the one winged Great Blue Heron has survived a 3 degree night and is out fishing in the river. She has a companion as well, either her mate or one of the three young herons. I'm leaning towards thinking it is her mate as when the three young ones go anywhere, they hang more or less together. You know, togetherness Blue Heron style which means 10 feet apart at least.
"…My final sighting of her seems to have been in January 2006. January and February are the hardest months of winter in Tulsa – she almost made it."