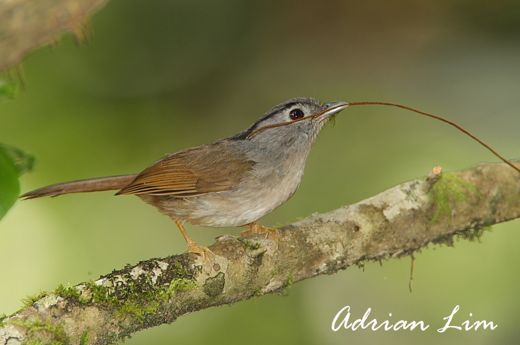 This Mountain Fulvetta (Alcippe peracensis), a shy montane forest babbler, was photographed in Frasers' Hill, Malaysia in May 2008 with a long piece of fibre in its bill. As with most babblers, it is generally difficult to locate, let alone photograph. Besides being shy, it moves around rather fast. To have an image of it with a piece of nesting material is quite an achievement.
The nest is not often seen. It is an open cup of leaves attached to horizontal stems. The outer layer is usually covered with bryophytes while the inner cup is lined with fibres.
The bird was obviously in its final stage of nest building as it was collecting fibres.
Input and image by Adrian Lim
This post is a cooperative effort between www.naturepixels.org and BESG to bring the study of bird behaviour through photography to a wider audience.