Butterflies and moths are regularly fed upon by birds. Once caught between the bill, the birds often flick the insect to remove the wings before swallowing the body. The image below (right) shows a bee-eater handling either a butterfly or a moth, with wing parts flying off towards the lelt of the image. The image on the left shows an Asian Paradise-flycatcher (Terpsiphone paradisi) with a butterfly in its bill. Again, parts of the wings have been damaged.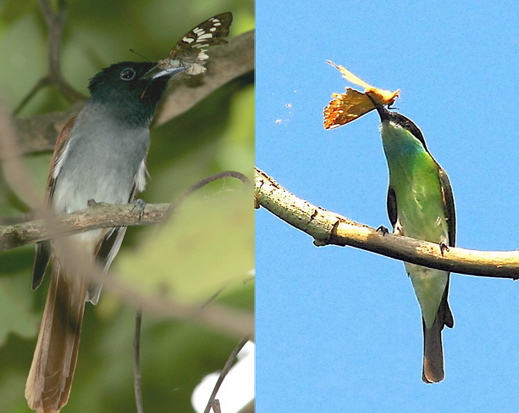 It has been shown that the caterpillars of the Monarch butterfly (Danaus plexippus) feed on milkweed (Asclepias spp.) that contains cardiac glycosides. The caterpillars store these glycosides as well as pass them on to the adults. Birds find Monarch butterflies distasteful, vomiting shortly after eating a monarch caterpillar or adult. The experience is usually so traumatic that the bird will avoid such insects, even insects that look like it.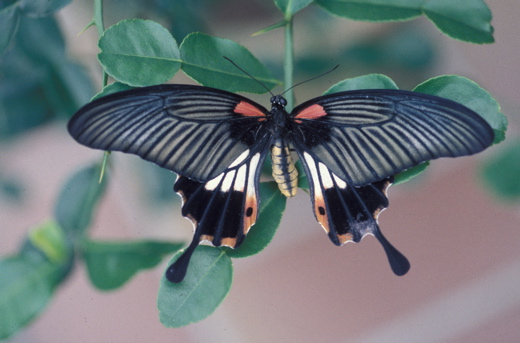 Most of our attractive birdwings, belonging to the family Papilionidae, that inlcude Common Birdwing (Troides helena), Common Rose (Pachliopta aristolochiae), Lime Butterfly (Papilio demoleus), Common Mormon (Papilio polytes) and Great mormon (P. memnon) are poisonous or distasteful.
Although the caterpillars of some of the above butterflies feed on plants containing alkaloids that may be poisonous or distasteful to birds, those of Lime Butterfly and possibly mormon (above) feed mainly on citrus leaves that may be harmless. So the big question is whether these butterflies are actually distasteful to birds or is mimicry involved?
Addenda:
Steven Chong: "Generally the Papilio family except Common Rose ie Common Birdwing (Troides helena), Lime Butterfly (Papilio demoleus), Common Mormon (P. polytes) and Great Mormon (P. memnon) …are not distasteful to birds. But the Danainae family or nowadays called Nymphalidae overall, which include the Monarch and milkweed butterflies are the poisonous models because as mentioned correctly, due to the poisonous sap found in milkweed plants. Even Common Rose these days are taken by birds I wonder if they have adapted to the taste, the subject of some discussion ie why they are taken.
"…forgot Common Birdwing should be considered poisonous, as both feeds also on Aristolochia tagala. BIG chairmain Simon Chan thinks Common Rose 'nowadays maybe the birds have to eat the poisonous ones too because of lack of things to eat. Personally, in addition to Simon's, I suspect different birds have different tolerant levels in their stomachs and some will eat, others avoid."
YC Wee & Steven Chong
Singapore
June 2008
Images by Johnny Wee (bee-eater), Chan Yoke Meng (flycatcher) and YC (butterfly).
Reference:
Huheey, J.E. (1984). ['Warning coloration and mimicry']. Pp. 257-300 in Bell, W.J. & Carde, R.T. (eds.) Chemical ecology of insects. New York: Chapman & Hall.