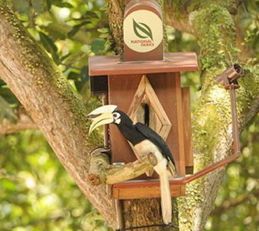 In a talk to update the public on the Singapore Hornbill Project on 22nd May 2008, Marc Cremades, who initiated the project together with Prof Ng Soon Chye, announced that the population of the Oriental Pied Hornbill (Anthracoceros albirostris) in Singapore has seen a sudden explosion.
These large and impressive birds have been slowly increasing in number over the last decade or so. When the project was initiated in 2006, the hornbill population was below 30 birds, with about 20 in Pulau Ubin.
The use of nesting boxes in the offshore island of Pulau Ubin has contributed to this sudden increase in population. The birds have been accepting these nesting boxes and using them to breed, and to raise a number of chicks successfully (top).
According to Marc, there are at least seven breeding pairs in Ubin and about 19 juveniles around. He estimates that the total population for Singapore is around 50.
Soon, these artificial nesting boxes will be tried on mainland Singapore. And hopefully, more Singaporeans will get a see these large and impressive birds.
The Bird Ecology Study Group is proud to be associated with the Singapore Hornbill Project.
YC Wee
Singapore
May 2008
(The above image is courtesy of the National Parks Board, Singapore)