Alvin a.k.a. epiphytophile, managed to photograph a pair of Silver-breasted Broadbill (Serilophus lunatus) busy building their nest in Malaysia in the latter part of Aril 2008.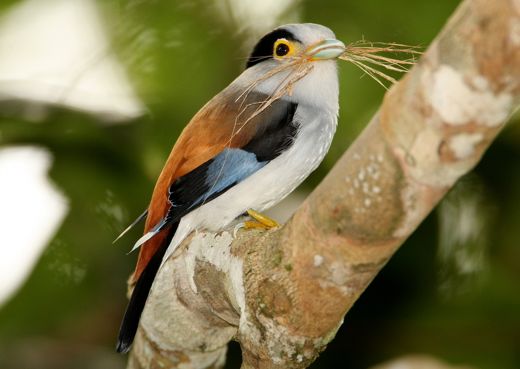 The male is distinguished from the female by the absence of a distinct thin white necklace. The male above has in its bill a bunch of plant fibres, looking like palm fibres, for the nest he is halping to build. The female below has fibres (left) and leaves (right) for the nest.
The nest is built around a supporting branch and made up of mainly pieces of long plant fibres (below). Completed nests are usually camouflaged with bryophytes and other epiphytic plants. However, this nest here is still in the construction stage. Small green leaves or pieces of green leaves are added to the brood chamber lining during nest use. Wells (2007) reports that at incubation changeover, it is common to see the adults coming with a piece of leaf in his or her bill.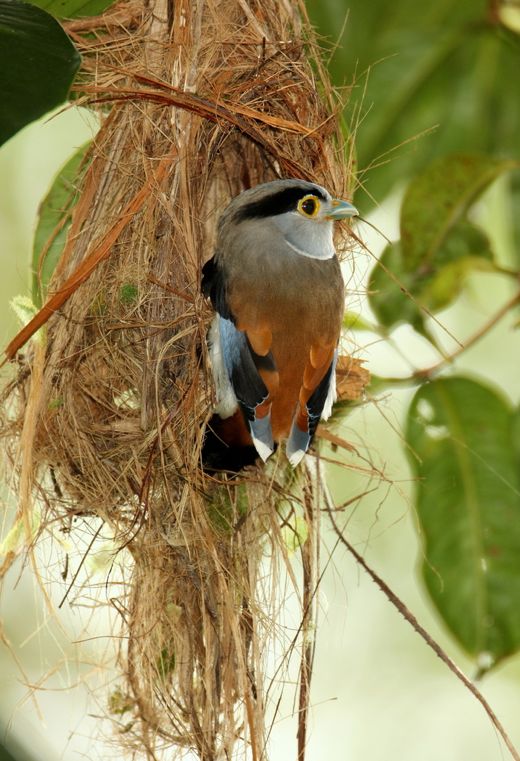 All images by Alvin a.k.a epiphytophile.
This post is a cooperative effort between www.naturepixels.org and BESG to bring the study of bird behaviour through photography to a wider audience.