It was March 2008 and Nelson Khor was birding with a group of photographer buddies at Bukit Tinggit, Pahang, Malaysia when he encountered and photographed a Collared Owlet (Glaucidium brodiei) (above). Roger Moo a.k.a. Cactus400D similarly managed to shoot the seldom seen owlet and wrote an interesting account of their encounter.
It was late evening and they were looking for a spiderhunter. An owl flew in and chased away the spiderhunter. Everyone rushed to the scene to record the owl but it flew away. Later it returned and was again gone. Then, according to Roger, "Out came the spiderhunter like F14 jet fighters zooming in onto the owlet… chasing it from one branch to another… the bulbuls called… out came the White-Rumped Shama (Copsychus malabaricus), not one but four or five…" These birds were obviously mobbing the owlet and scolding it (above).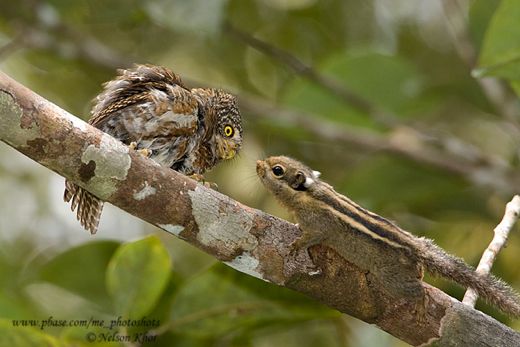 "…then came the 'chipmunk' squirrels… one took a brave stand and marched right in… onto the branch that the owlet was perching… (above). The squirrel wanted to 'peck' the owlet on the face… the owlet flew across the road to another branch opposite… and guess who was 'disturbed' by all these but the Orange-breasted Trogon (Harpactes oreskios)… perching and watching… the whole 'ruckus' in front.."
Owls are easy to recognise. Their shape and plumage are rather uniform and these give them away. But size varies greatly. Unfortunately, very little is known about their behaviour, especially tropical species. And the smaller owlets, especially of the genus Glaucidium, the situation is especially acute.
The Collared Owlet is a small bird, about 16-16.5 cm high. It has a rounded head, somewhat large for the size of the body. It is reported to have a staring 'dorsal face' on the nape, although this has not been captured in the images.
This owlet is nocturnal and crepuscular, meaning that it is active at night as well as during twilight and just before dawn. However, it often forages during the day.
Images courtesy of Nelson Khor.
This post is a cooperative effort between www.naturepixels.org and BESG to bring the study of bird behaviour through photography to a wider audience.