Alvin a.k.a. epiphytophile of NaturePixels.org was at Changi Cove on the afternoon of 9th April 2008 when he saw a strange and unfamiliar looking bird with a prominently long tail (above). He managed to get a few pictures before the bird disappeared. It was a male Pin-tailed Whydah (Vidua macroura) in breeding plumage, thus the long tail.
Similarly, Dr Eric Tan a.k.a. MountainMan succeeded in snapping a few images of this impressively looking and attractive bird (below).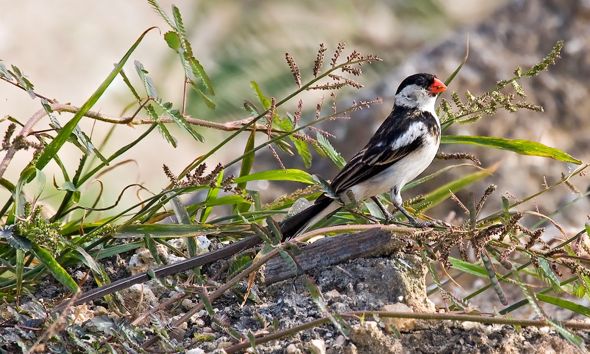 According to Subaraj Rajathurai, our bird specialist: "While these escapees can hang around an area for a while, the whydah has never established itself as a feral species. There are no breeding records, although immature birds have been seen, and they never occur at an area for more than a couple of months.
"This grassland species must have escaped from some bird holding area or bird shop. For the Serangoon records, along with the many other escapees that occured there in the 1980s/1990s, there is the Agri-Food & Veterinary Authority Quarantine Station that was situated at the old Tampines Road nearby.
"As for Changi, there have been a few interesting escapees over the years and one wonders where they were escaping from."
This is a brood parasite, a very aggressive bird that comes from most parts of Africa south of the Sahara Desert. Because of its beauty, it is much sought after as a cage bird. The bird sighted at Changi is obviously an escapee.
This post is a cooperative effort between www.naturepixels.org and BESG to bring the study of bird behaviour through photography to a wider audience.