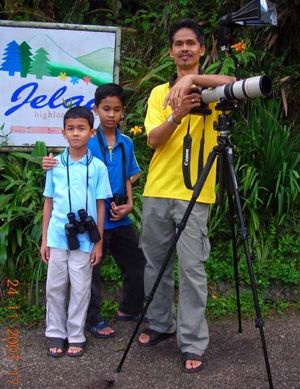 Since late February 2008, Dr. Redzlan Abdul Rahman has been contributing a total of six exciting accounts on bird behaviour that you can access HERE: 1, 2, 3, 4, 5 and 6. More are on the pipeline as he keeps on documenting the birds that visit his backyard. Yes, his backyard.
That's him on the left with his two young sons and his photographic equipment. His able assistant is his elder son, Muhammad Firdaus, in a dark blue shirt. He started off in March 2007 with a pair of cheap binoculars scanning the night sky to look at stars. But bad weather and cloudy skies made him switch to watching birds instead. Now he has swapped his original bino with a William APO 8X42 with close focusing features. And of course his Digital SLR and accessories.
A doctor by profession, he runs his private clinic in the Malaysian town of Raub, in the state of Pahang. The state itself is an exciting place to bird watch. Within the state are a number of hill resorts like Fraser's Hill and Cameron Highlands. This is also where Taman Negara, Malaysia's National Park is sited. Birders from all over Malaysia as well as Singapore make regular pilgrimages to these areas, especially Fraser's Hill.
Living in such a lush area, Dr. Redzlan, who blogs under the name Tabib, need not leave his backyard to find birds. In fact, the majority of his many images that he post in his blog come from his backyard (above). The dead tree in the background is where he photographed most of his birds. Actually, he spends about two hours each morning before work and two hours in the evening after work to study and photograph birds.
The flock of Blue-throated Bee-eaters (Merops viridis) (left top) and the Black-naped Orioles (Oriolus chinensis) (left bottom) are just two examples of the many species of birds that gather on the bare branches of this dead tree.
Many birders start off as twitchers, looking at birds, listing the species seen and seeking out more and more species to increase the list. If you can call Tabib a birder, then he is one rare birder who becomes a twitcher only after he got fascinated with bird behaviour. This is only because through the few years that he got involved with birds, so many species visited his backyard that he got to listing them. His current number is fast exceeding 40. The montage below showcases only a few of the species he encountered.
Living in a neighbourhood rich in bird life, he is priviledged to encounter his birds actively doing things – catching insects, courting, squabbling, nesting, etc. Other birders and photographers usually encounter birds that just perch, waiting to be photographed, thus the many portrait shots that we see in webpages.
I "discovered" Tabib some months ago when he linked one of his postings to BESG's blog. When I visited his page, I was totally dazzled by the number and variety of images of birds and their behaviour. He was kind enough to allow me to repost some of his earlier images for a wider audience and the close relationship developed from there.
YC Wee
Singapore
April 2008