The Blue Rock Thrush (Monticola solitarius) breeds in southern Europe and northwest Africa and from central Asia to northern China and Malaysia.
In Peninsular Malaysia, the thrush, true to its name, breeds in limestone outcrops and according to Collar (2005), is has been observed recently to breed also in city buildings. Here, it is a resident as well as a migratory bird.
The birds that KC Tsang highlight here were photographed among the limestone hills around Kek Look Tong, an area known as Gunung Rapat in Ipoh, Perak. Such limestone habitat is where the bird builds its nest, a shallow cup or rough pad of grass, leaves and rootlets lined with soft grass, and sometimes also feathers and/or plant floss. The nest is placed under a rock overhang or in a cliff crevice.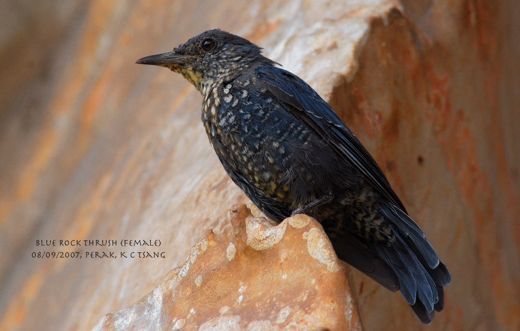 The male is smoky blue with dark wings (top) while the female and immature have dark brown upperparts and paler brown and scaly underparts (above). The bird is omnivorous, taking insects and other arthropods on the ground as well as on the wing. It also eats snails, lizards and berries.
The male has a clear and rich melodious song.
Incidentally, the bird is Malta's national bird.
Addendum: The Blue Rock Thrush has apparently been spotted a few time in Singapore. The first record was in 1991 when Richard Ollington photographed it in Tuas. There have been very few sightings since.
References:
1. Anon. (2006). Birds of Perak. Bird Group, Malaysian Nature Society, Perak Branch.
2. Collar, N. J.. (2005). Family Turdidae (Thrushes). Pp. 514-805 in: del Hoyo, J., Elliott, A. & Christie, D. A. eds. Handbook of the birds of the world. Vol. 10. Cucuoo-shrikes to Thrushes. Barcelona: Lynx Editions.
3. Wang, L.K. & Hails, C. J. (2007) An annotated checklist of birds of Singapore. Raffles Bull. Zool. Suppl. 15:1-179.
4. Wells, D.R. (2007). The birds of the Thai-Malay Peninsular. Vol. II, Passerines. Christopher Helm, London.