The Lesser Shortwing (Brachypteryx leucophrys) is a bird that not many birders have the opportunity to see. More often than not, it is heard than seen. And once heard, its rich and melodious song remains with you.
But even after hearing its vocalisation, it is extremely difficult to locate the bird. It lurks on or near the ground, alone or in a pair. And mostly, it remains within the tangle of vegetation in the forest understorey, or at the forest edge hidden among the thicket.
Yet, KC Tsang managed to photograph both the male and the female in Peninsular Malaysia's Fraser's Hill. He did not encounter both sexes on the same visit. In July 2006 he managed to see and photograph a female bird when it emerged from hiding to take a bath in a forest stream (above). As for the male, he only got his shot two years later, in March 2008 (below).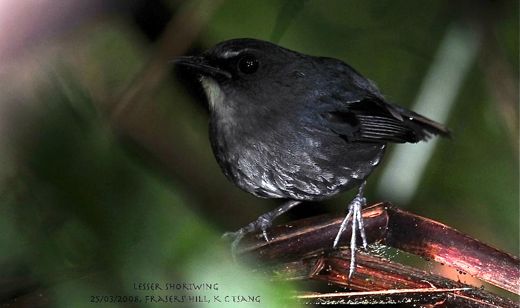 The Lesser Shortwing is mostly a montane forest bird, found generally at an altitude of 1,500 and 2,100 metres. According to Wells (2007), it's "advertising-song is surprisingly loud and intense: two deliberate, well-separated notes, who, hee, followed immediately by a sweet but explosive jingle lasting about a second, too fast to unravel by ear (slightly slower on the E-coast Range), but with sharply up-and-down notation and some doubling of sounds." Its alarm call "is a 3-6 repetitions of a low but sharp monosyllable, tuk or tak, answered with a fine, thin see or whee.
Reference:
Wells, D.R. (2007). The birds of the Thai-Malay Peninsular. Vol. II, Passerines. Christopher Helm, London.