"The reported 'discovery' of two Javan Pond Herons (Ardeola speciosa) at Serangoon (Lorong Halus) on March 1st 2008 (above), reported in the Nature Society (Singapore) bird group's website (left), brought back old memories. I decided to do a little research and found that there is a need for a proper account. What has been reported so far about this species in Singapore is unsatisfactory.
"There was apparently an old 'Singapore' specimen at Berlin Museum formerly but this was dismissed by Gibson-Hill (1949) due to there being doubt over the actual origin of this.
"The first recent record is actually a sighting of a breeding plumaged adult at Sungei Buloh Wetland Reserve reported by Uthai Treesucon. This happened during the Singapore Bird Race 1994, which I was also a part of. Uthai, one of Thailand's most prominent birders, came down with two other Thai birdwatchers to take part in the race. Their team was called Hawkeyes. At the end of the race, Uthai submitted his log-sheet to the arbitrator with notes and a sketch of the Javan Pond Heron at the back (below). I clearly remember the discussion after the race amongst the bird group elite (including members of the Records Committee). They felt that while the identity of the bird was not in doubt, due to Uthai's familiarity with the species up in Thailand, the bird must be an escapee as it was in "summer" plumage at the wrong time of the year! Huh?!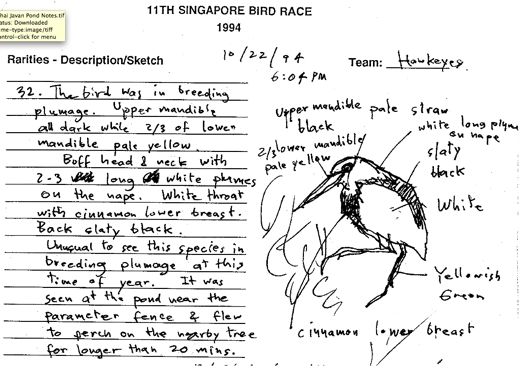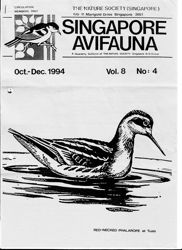 "These notes and sketch seem to have vanished after that and instead, notes from Wu Eu Heng were produced in the Singapore Avifauna Vol 8, No 4 (Oct–Dec 1994) issue (left). The sighting on 22nd October 1994 (by Wu, Dave Thomson & Uthai Treesucon et al.) as reported as an escapee due to "it being in breeding plumage during the wrong season". The subsequent Singapore Bird Report in the only bird group journal, Iora, simply reports this record as an "unconfirmed sighting of a summer bird at Sungei Buloh on 23rd October by Wu Eu Heng.
"Since both reports were done by the same individual, how can the record change so much… from a sighting to an unconfirmed sighting; from 22nd to 23rd. This was very shoddy reporting. The term 'summer' further emphasises the confusion as the Javan Pond Heron is not a Palearctic migrant from the north, where there are different seasons!
"Anyway, Richard Ollington subsequently reported the same bird in Birdline Singapore. He had the bird at Sungei Buloh from October 4–29th, 1994. Birdline Singapore is an unpublished private publication of Ollington but David Wells receives his reports. Even here, there is some confusion. Wang & Hails (2007) report in their annotated checklist, where the species is under the doubtful/unconfirmed category, that Ollington had said that he took a colour photo of this species on October 22nd, 1994. Yet, they make no mention to the record published in Singapore Avifauna or the Iora.
"The 2nd recent record is a bird photographed by Ashley Ng on March 29th, 2003, at Sungei Buloh Wetlands Reserve. The 3rd record was of two birds in breeding plumage at Sungei Buloh between April 7–11th, 2004, as reported by Lim Kim Seng.
"On April 11th, 2007, Shona Lawson and I observed two breeding plumaged Javan Pond Herons at Serangoon (Lorong Halus). These birds were in a tidal channel, along with up to ten Chinese Pond Herons. They were also seen two days later by Martin Daniel. This is the 4th recent record of the species here.
"That brings us to this year's 'discovery' of two birds (the same birds?) in early March, at the same location as last year's sighting. At least one bird was still around on March 29th (Mary Jane Hele and I).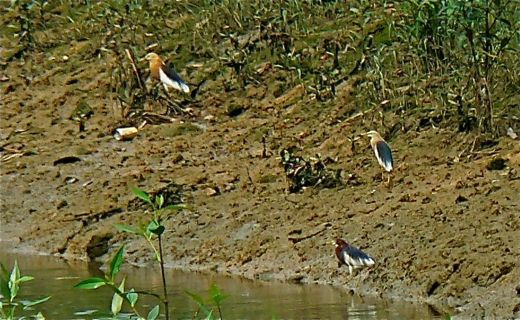 "Six days later, on April 4th, these birds were still at Serangoon. There were two breeding plumaged Javan Pond Herons, along with breeding and non-breeding plumaged Chinese. The image above shows two Javan in breeding plumage together with a Chinese, also in breeding plumage.
"According to Hancock & Kushlan (1984), there are two separated races of the Javan Pond Heron. Ardeola speciosa speciosa which is found from Sumatra to Sumba and Flores and A. s. continentalis on the mainland, in Thailand, Indo-China and Myanmar. The book considers the species to be sedentary but Wells (1999) reports that since 1979, this species has been occurring during an 8-week window, from March 8th, along the west coast. As such, it is considered a non-breeding visitor to the region covered by Wells. He also mentions, that based on the discovery of many breeders in south Sumatra, that the western range may be expanding.
"As such, it may be logical to say that birds that have been turning up on the west coast of the Malay Peninsula over the past 30 years and in Singapore in the past 14 years, are genuine non-breeding visitors from the west and south of us. As such, this species is on my personal Singapore checklist as a Scarce Visitor.
"There are a couple of issues about the above records and how they have been perceived by others here.
"Firstly, in Wang and Hails (2007), there is a suggestion that Javan Pond Herons may be escapees from the zoo as Wang Luan Keng had seen some free-flying specimens there. I do hope that her identification is correct as I have only seen Chinese Pond Heron around the zoo. If she got it right, why are these free-flying zoo birds and not naturally wild occurrences? The zoo grounds do attract many wild migrants including a variety of other members of the heron family. Finally, all the records have been at the north-west and north-east migrant draws of Sungei Buloh and Serangoon, during specific months. If the Javan Pond Heron is a free-flyer from the zoo, why are there no records between May–September? Other free-flyers from the zoo, such as the Milky and Painted Storks, occur at Buloh during all months of the year!
"Secondly, if Uthai's record of a bird in breeding plumage in October 1994 was deemed almost certainly an escapee due to its 'summer' plumage in the wrong month, it seems strange that there were no doubts at all about breeding plumaged birds seen by bird group members in 2004 and 2008.
"We should remember that the Bird Group's Records Committee is just that and nothing more. It is not a National Records Committee and whilst it might like all birders here to submit records to it, not all recognise its competence or impartiality."
Input and images by Subaraj Rajathurai except the one at the top, by Lee Tiah Khee.
References:
1. Gibson-Hill, C.A. (1949). An annotated checklist of the birds on Malaya. Bull. Raffles Mus. 20:1-299.
2. Hancock, J. & Kushlan, J. (1984). The Herons Handbook. Croom Helm, London.
3. Wang, L.K. & Hails, C. J. (2007). An annotated checklist of birds of Singapore. Raffles Bull. Zool. Suppl. 15:1-179.
4. Wells, D.R. (1999). The birds of the Thai-Malay Peninsular. Vol. I, Non-passerines. Academic Press, London.