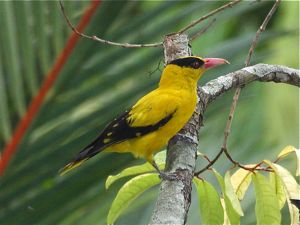 We have been looking at birds for more than two decades now. We have been paying attention to bird identification, fascinated by the plumage, as seen in the Black-naped Oriole (Oriolus chinensis) on the left. Currently there are many birdwatchers who are good at bird recognition. The Bird Group of the Nature Society (Singapore) has done an excellent job in this respect. This was done through courses, field trips, bird races, annual bird census, etc., all put in place in 1984 by Clive Briffett and his team.
The formation of the Bird Ecology Study Group in 2005 injected a little science to the mainly recreational activities of birdwatching. BESG, as this group has become known, introduced the study of bird behaviour.
While birdwatchers were previously mainly looking at birds, enjoying the diversity of bird life and compiling lists of species from different habitats, they have now been encouraged to observe birds. Observations on what food birds take, how they catch their food, their nesting habits, breeding ecology, interspecific interactions, etc. were collected and published in this blog.
Making such observations easily available to all was deemed crucial in encouraging birdwatchers to participate in data collection. In this respect we have been successful as evidenced by the ever increasing visitor number to our blog.
Although bird photographers were mainly sending in their photographic evidence initially, we now have traditional binocular-toting birdwatchers making behavioural observations in between listing species.
Three years into encouraging behaviour-watch, we have succeeded in making birdwatchers aware of the necessity of not just looking at birds, but also watching them. We are not stopping here but moving on. We hope to encourage birdwatchers to also listen to birds, not just looking and watching.
Birds make a series of calls and sing wide-ranging songs. Through the work of Sutari Supari, we have recordings of bird sounds. This is an excellent basic compilation. We need to improve on this, to record the entire repertoire of calls and songs of each species. Many species have more than one call and/or song. Only recently, Gloria Seow mentioned to me that she has noted that the Black-naped Oriole has a repertoire of at least seven songs.
We also need to slowly find out exactly what each call and song means. Are they made to defend territory, to attract mates, to warn others of predators?
We invite birders when out in the field to listen to birds, make notes and publish them to share these observations so that we can, together, build on our scarce knowledge of bird vocalisation.
YC Wee
Singapore
March 2008