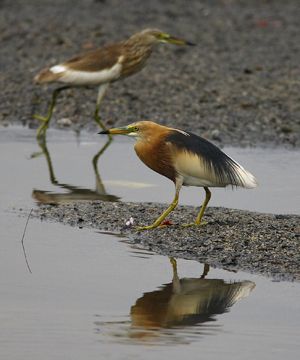 In March 2007, the appearance of a Javan Pond Heron (Ardeola speciosa) in Darwin, Australia, had Aussie twitchers in a flap. The bird was apparently blown in from Indonesia with Cyclone George and subsequently took up residency in the northern suburbs. News of its presence spread quickly and twitchers from all corners of Australia flew in for a glimpse.
This year, also in March, the Javan Pond Heron was sighted at Singapore's Lorong Halus (left). As expected, the appearance of the heron had our local twitchers in a similar flap.
The bird was in its breeding plumage and this confirmed its identity without any dispute. In the absence of this plumage it is extremely difficult to differentiate it from the Chinese Pond Heron (Ardeola bacchus).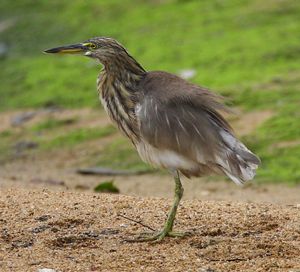 The Chinese Pond Heron, on the other hand, is an uncommon winter visitor and local birders are familiar with it (right). Not so the Javan, reported in Lim (1997) as a probable vagrant. However, its earlier occurrences have been challenged by Wang & Hails (2007) who believe that the status of the Javan was, at most, "uncertain". The earlier sightings in breeding plumage, were photographed at the Sungei Buloh Wetland Reserve in October 1994 and again in March 2003. Our field ornithologist Wang Luan Keng believes that these birds could be escapees from the zoo, which has some free-flying specimens.
For reasons unclear to us, the Javan Pond Heron was recently added to the checklist of birds produced by the Nature Society's Bird Group Records Committee (see reference below). Now, if a species is a new record for the country, there should be proper documentation published somewhere. Birders would like to know whether the sighting in Sungei Buloh in 2003 convinced the Records Committee that the bird was a genuine wild species and the rationale for its acceptance. If not, was it a subsequent sighting? And by whom and when? Maybe I am not aware of such publication/s?
Pond herons that visited Singapore in the early years were always wearing their winter plumage, thus they were mostly assumed to be Chinese Pond Herons. However, some of the recent (post-1997) sightings were in their breeding plumage, thus making their identification as Javan Pond Herons more creditable. Apparently, more and more sightings of these birds in their breeding plumage have been reported during the recent years.
The probability of the Javan Pond Heron sighted at Lorng Halus being a wild bird is great, considering its location, away from the zoo and birdpark. The fact that there were clear images of the bird removes any doubt that it was a Javan. Images are now playing an important role in birding. For one, any reasonably good photographer can make an impact on new sightings, while in the past there would always be doubts until an experienced member of the Records Committee personally saw the bird.
It should also be noted that Lim's field guide and checklist are popular publications for the lay birdwatchers, whose main interest is identification. On the other hand, the annotated checklist of Wang & Hails is a scientific document written for ornithologists and scientific-minded birders. The annotated checklist was peer reviewed and The Raffles Bulletin of Zoology where it was published is accepted by the scientific community as an international journal of repute.
YC Wee & Wang Luan Keng
Singapore
March 2008
(Images by Lee Tiah Khee)
References:
1. Lim, Kim Seng (1997). Birds – An illustrated field guide to the birds of Singapore. Sun Tree, Singapore.
2. Lim, Kim Seng (2007). Pocket checklist of the birds of the Republic of Singapore. Nature Society (Singapore) Bird Group Records Committee.
3. Wang. L.K. & Hails, C. J. (2007). An annotated checklist of birds of Singapore. Raffles Bull. Zool. Suppl. 15:1-179.