On the evening of 23rd October 2007 I was attracted by the loud and high pitch cries of a sunbird in my backyard. The bird was firing off a series of chic-chic-chwee, chic-chic-chwee, chic-chic-chwee… The cries came in the direction of my curry-leaf tree (Murraya koenigii). Being a tiny bird, it took me some time to locate it. And locate it I did.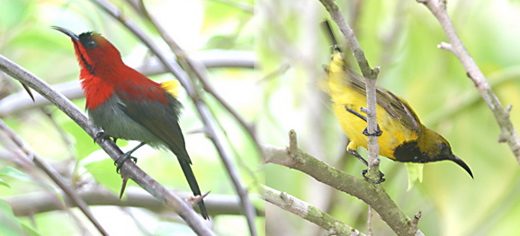 It was a male Crimson Sunbird (Aethopyga siparaja) and it was moving about the branches in a highly restless manner and calling loudly all the time (above left). I thought it was gleaning insects until I noticed another sunbird moving nearby. The other bird was also a male, but an Olive-backed Sunbird (Cinnyris jugularis). It was following the Crimson, but silently (above right).
The Crimson came into view, perching on a branch nearby, calling all the time. The Olive-backed flew and landed nearby, less than half a metre away. It then flew off, fanned its tail and landed some distance away.
The Crimson noisily followed and so the pair moved to a palm nearby. All the while the Crimson was calling and the Olive-backed was silent. And they moved around for some time before disappearing.
What were they doing? A confrontation between the two male sunbirds of different species?
YC Wee
Singapore
March 2008