On 6th March 2008, the rescued Javan Myna (Acridotheres javanicus) chick was under care for a total of 14 days. It has been eating regularly, in fact every two to three hours except at night when it was placed in an enclosed cardboard box that was kept indoors.
The wing feathers were fully developed and the chick was exercising its wings regularly. But it was not ready to fly. It was even not confident of jumping down from the piece of wood I placed on top of the box when left by itself.
On this fateful evening, it had just finished its bath in a basin filled with a few centimetres of water. After the bath that took only a few minutes, I placed it on the ground where it did a little fluffing to rid excess water and then preened a little.
It was not experienced enough to totally dry itself by shaking its body and fluffing its feathers, so I placed it back on its perch at the top of the box (above). There I left it, with the box just outside my main door so that I could keep an eye on it.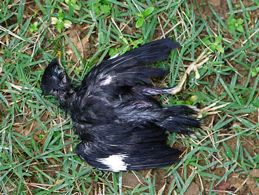 I went indoors for a while when suddenly I heard a sharp screech, followed by silence. Suspecting something might have happened to the bird, I rushed outside and found it gone.
Searching the garden, I came across my neighbour's cat at the back. At its feet was the dead myna chick (left).
Apparently the cat must have walked into my garden and spotted to myna. It must have crept slowly towards it before suddenly pouncing on the poor chick. The attack must have been sudden, otherwise the chick would have made a series of cries and jumped off its perch. This it did a day earlier when a pair of adult noisy Javan Mynas strayed too near to where it was perching. The chick then jumped down and hid among the flower pots.
A sad ending to a sad story of a birdling apparently pushed out of its nest by its sibling. Or did it accidentally fall from the nest?
YC Wee
Singapore
March 2008