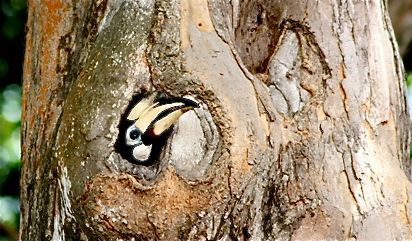 "The pair of Oriental Pied Hornbills (Anthracoceros albirostris) that have been in and around Changi Village for 2-3 years now, have tried unsuccessfully to nest a few times (see Related Posts, below).
"Since last year, I have seen the pair at the main Red-breasted Parakeet (Psittacula alexandri) and Tanimbar Corella (Cacatua goffini) nesting area along the main road, on a few occasions. Each time, the cockatoos would be nowhere to be seen and the parakeets would be screaming up a storm.
"The female has tried to steal the cockatoos nest hole but no matter how hard she tried, she could not quite fit. A few times, possibly in frustration or just to stake her claim, she would place her whole body over the nest hole. As I have seen the cockatoo in that hole at other times, I could never tell if one was stuck in there during efforts.
"On January 30th, when Melanie Votaw and I visited the colony, we were surprised to find the female hornbill in the nest hole, with only her head and neck sticking out (top). We observed her for a while and Melanie managed some photos. She was rubbing her bill around the edge of the hole. The edge looked damp and brown as a result and I wondered whether she was actually using her own droppings.
"The hole still looked too small for her and was certainly much smaller and rounded compared to the normal slits that these birds choose. She would not really need to seal herself in very much, if she successfully laid eggs. The male was seen, for a short while, on a nearby branch.
"On the next Angsana tree (Pterocarpus indicus), both the Tanimbar Corella and Red-breasted Parakeet were at their own nest holes, while a Javan Myna (Acridotheres javanicus) seemed to be lining the bough of the tree as well (above). Nesting galore!
"While the population of wild Oriental Pied Hornbills at nearby Ubin is now at 22+ birds, there are limited nesting sites due to the lack of sufficient large trees and the even smaller number of suitably sized nest holes. This situation is far worse on mainland Singapore, especially away from the Central Nature Reserves.
"Nesting boxes may be the answer and this is being tried out at Pulau Ubin. If this proves successful, more boxes can be set up at Changi and other eastern nature sites, in the hope that the hornbills will successfully colonise from Ubin."
Subaraj Rajathurai
Singapore
March 2008
(Image of hornbill by Melanie Votaw, that of corella-parakeet by Chan Yoke Meng)