"I was at the Singapore Botanical Gardens this afternoon (10th February 2008) and saw a rather interesting event. About five to eight Blue-tailed bee-eaters (Merops philippinus) suddenly came flying in and started to circle the lake. Then the bee-eaters started to fly really near to the surface and took "mini dives" into the water. This went on for about a minute and the group suddenly took off.
"Is this weird behaviour due to the bee-eaters heating up in the hot sun and trying to cool themselves off?
"Attach are some photos I managed to snap. Quite blurry. Bee-eaters were flying very fast and my camera shutter speed is only that fast… Regards, Meibao"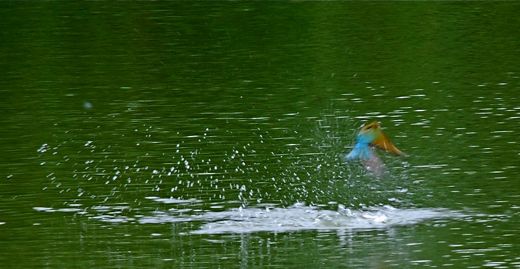 The Blue-tailed Bee-eater is a common passage migrant and winter visitor, arriving in great numbers towards the end of September. It feeds mainly on insects, particularly hymenopteran insects like bees, wasps and ants. It also takes dragonflies, bugs, beetles, flies and termites.
It has also been reported that this bee-eater often splash-dives into open waters, sometimes to bathe and other times to take small fish and insects. Fry (1984) first recorded the bird taking the small, surface feeding mosquito fish (Gambusia affinis) when a vertebra of the fish was detected in a pellet regurgitated by the a Blue-tailed Bee-eater.
The mosquito fish is native to southern United States and Mexico. It is now found throughout the world, used mainly to control mosquito larvae in freshwater ponds and lakes.
Meibao
Singapore
February 2008
References:
1. Fry, C.H. (1984). The Bee-eaters. T. & A.D. Poyser, Calton.
2. Fry, C.H. (2001). Family Meropidae (Bee-eaters). Pp. 286-341 in: del Hoyo, J., Elliott, A. & Sargatal, J. eds. (2001). Handbook of the birds of the world. Vol. 6. Mousebirds to Hornbills. Barcelona: Lynx Editions.
3. Lim, K.P. Kelvin & Ng, Peter K.L. (1990). A guide to the freshwater fishes of Singapore. Singapore Science Centre.