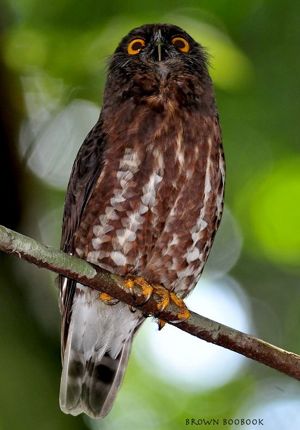 "The Brown Boobook aka Brown Hawk Owl, aka Oriental Boobook in Australia, the scientific name being Ninox scutulata, seems to have established itself very well around most parts of the old world from India, Sri Lanka, most of Indonesia and South China. With reference to Singapore, it is considered to be a common resident breeder, and also winter visitors (left). So what it means then is that our resident population could be rejuvenated by new blood coming in from maybe as far as Pacific Russia, Japan, Korea. However please do bear with me as I have not been able to check their passports personally.
"When it comes to the Oriental Boobook in Australia, in the Slater Field Guide to Australian Birds, 1992, they have recorded it only once on the north-west coast, no dates available, a rare vagrant from Indonesia. It is still in their checklist of 2003. So if there are any new updates from Australia by our Australian readers, please do let us know about it.
"However the latest most amazing find of this bird was in Alaska, St Paul Island, on 27th August 2007 by Jake Mohimann, so far this is the only record. No one knows how this bird got to be there. More details on how this was found are available HERE.
"With respect to our Singapore Brown Boobooks, they can be found in the Central Catchment areas, Rifle Range track, Sime Road forest, Mouse Deer Trail and Nee Soon swamps.
"Owls are enigmatic birds, very difficult to find and see, their camouflage is really extraordinary. There was one perched on a branch about 15 feet away, eye level almost, he was calling "hoo uk, hoo uk", and still, Amy and me had a hard time locating him. But thankfully, we got him on camera.
"Our observations on the bird's method of vocalization: I believe the bird would first take in a deep breath, then puff up his neck, then stretch neck up. So every time it makes a call, the head would bop up and down, as caught on camera. Sometimes the bird would also bend it's neck, head backwards.
"For silent flight, owls will have very fine hairs/feathers on the leading edge of their wings. Besides that, I believe they also have very fine hairs/feathers from the edges of their tail feathers, evidence of which can be seen in the photos of this hallow effect of the tail caused by the back lighting of the bird."
KC Tsang
Singapore
February 2008