Four species of 'Flamebacks' are identified in SEA field guides to birds but only two resident species, Greater Flameback (Chrysocolaptes lucidus) and Common Flameback (Dinopium javanense) are found quite frequently in Malaysia's open deciduous woodlands, secondary forests and mangrove areas.
Two pairs of male and female species are shown as follows (above and below: 1-4).
From nowhere, these two species of cavity nesters never fail to send birders' heads turn by their dramatic entrances. Their loud, quick and metallic trilling calls, "tit-tit-tit tit-tit-tit…" that just simply could not be ignored.
Vocalising calls have been observed to be variant, louder in the Greater but slower than Common Flamebacks.
Abseiling in undulating flights, both insectivorous species display bark gleaning and wood pecking behaviours whilst clinging on to wood trunks, with their polydactilous toes that end in horned claws. In vertical positions, their black, stiff tail feathers act as brace over tree trunks while their chiselled bills banging at living and dead wood like the sound of distant drums, "tok tok tok tok tok".
Plumage wise, the male of both species look similar at a quick glance. They wear a feathery black and white scaly under carriage, a feathery red skull cap and adorn golden coloured capes revealing their red backs. They truly look like their backs are in flames. Such befitting description of these two species, have given Flamebacks their rightful names instead of, 'Goldenbacks' as previously known.
The same question is often asked by novice birders in the field: "Which one is that-the Common or the Greater?"
Let's take an armchair walk into the field, inviting readers to refresh or make better acquaintance with these fascinating and alluring Fu Manchus – their ubiquitous behaviours turning many nature lovers into an addictive hobby of bird watching.
With a decent pair of binoculars 8-10×42 (8-10 means magnification distance and 42mm is the diameter of the binocular lens) and standing about 50 feet away, three prominent indicators should view and will help identify the different species at which ever position a birder is looking at the bird.
The first pointer is directed at looking at a species whose rear is facing you. One can appreciate that the nape or the back of the neck is feathered white in the Greater Flameback (above: 5).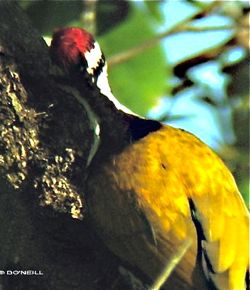 As compared to the Common Flameback, the bird's nape is feathered black. The male bird looks like he is wearing a red skull cap, spotting a Manchurian black braided pig tail and cloaks in royal robe! (right: 6).
Second pointer goes to viewing the side face of the bird or viewing the bird from a side view or profile, will show that both species spot a black Fu Manchu's moustache. This sub- moustachial stripe is situated below the black eye band and is curved downwards.
The Greater Flameback has a black sub-moustachial stripe that splits into two, forming a loop like an island and meeting up at the side of the neck. Whereas, the sub-moustachial stripe of the Common Flameback spots only one smart, black Fu Manchu stripe (below: 7-8).
The third pointer is directed at the toes of these arboreal birds. There are four toes seen on the Greater (below left: 9). That makes him my 4-toed woody pecker pal.
"How many toes can readers see on the foot of the Common Flameback Dinopium javanense?" (below right: 10).
"See the difference?"
There are more subtle differences between the two species which even high grade binoculars alone will find inadequate to seek out more details of birds. Seldom too will birds perch long and close enough for such intimate observations.
This is where a spotting scope with magnification x30 comes in handy to view forest birds. Mounting the scope on to a digital camera on a steady tripod will further enhance much rewarding results in appreciating the finer aspects of bird identification and accuracy.
The beauty is, digiscopers need not be near to birds to see and be seen nor need they be unduly stressed out by humans associated to be bird predators.
Let's look again at the two female species of the Greater and Common Flamebacks- Image 3 & 4 to enjoy the difference. They do not wear any feathered red skulled caps. Instead, in both species their heads are black and white.
A closer look in digital photography shows one has white spots and the three toed Common Flameback has white streaks!' This is not easily seen with the naked eye even with a pair of binoculars at distance.
While we are looking at the heads, it might interest readers to note that the beak's length is equidistant to the head of the Greater while the beak of the Common is shorter. (Please compare Image 7 & 8).
Some field guides describe the colour of eyes to be, 'pale' or 'yellow colour' in the Greater and 'dark brown' or 'chestnut' in the Common. The eyes of the male Greater Flameback Chrysocolaptes lucidus in this Image 7, shows this species appearing to have golf balls with black dot stud in his eye sockets!
Sophisticated digital cameras equipments and latest technique in bird-digiscopy, an accidental discovery made only in the late 90's have revolutionised the way birds are being observed and documented in the 21st. century.
It is indeed an exciting time to be viewing birds be it behind one's own back yard or take on the iron bird and go off shore- to roads less travelled.
I hope you have enjoyed refreshing yourselves in reading the joys and excitement of bird watching- in the hope too of meeting up with one of these members of the Picidae family, sending readers' hearts a quickening.
By Avian Writer Daisy O'Neill, Penang, Malaysia
© FLAMEBACKS DUO 2008