Three Himalayan Griffons (Gyps himalayensis) were sighted by Lee Tiah Khee flying over the Bukit Timah Nature Reserve on 23rd January 2008. Tiah Khee managed to capture two of the three in the above image.
On the morning of 26th January, James Heng similarly made contact with these birds: "The bird flew overhead at 10.10am when I was at the northern part of the island that faces Johor. Where I was, there were also a pair of Black-winged Kites (Elanus caeruleus) and a White-bellied Sea Eagle (Haliaeetus leucogaster).
"That solitary Himalyan Griffon flew higher than the usual White-bellied Sea Eagles. As it was against a clear blue sky, the fold of feathers around its head (when its neck is retracted) was clearly seen. Even the small baldy head and large curved beak was very
visible.
"It flew inland from the Johor side for about 300-400m, took a left turn and then flew back out to the Straits of Johor again. You'd probably have a higher chance to see it flying along the Straits of Johor.
"In fact, I had probably seen the same bird gliding near the same location the previous day at about 2pm. It was seen from the beach in front of Bottle Tree Village at Sembawang Park. That raptor was soaring above the Straits of Johor towards Johor's side.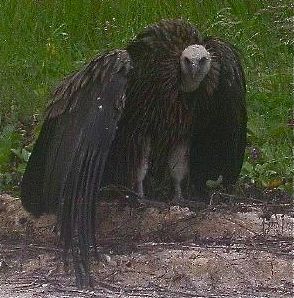 "At that time, I thought that it was strange that the colors on that "adult WB Sea Eagle's" tail were the wrong way round, i.e. white above black. I excluded the WBSE's juvenile plumage as the lower primaries were lacking the pale patches and the breast and its lower coverts were grayish-white. Though I was very puzzled, the bird was too far away for my binoculars to get any further details. In hindsight, it may very well have been that same bird.
"In fact, as a scavenger, it makes more sense for the Griffon to feed at Johor's side as there are far more mangroves, kelongs and kampungs. Singapore's side is far too urbanised for them to find any carrion."
.
.
.
.
James Heng
Singapore
February 2008
(Image of Himalayan Griffons flying by Lee Tiah Khee, that of the bird crouching by Wang Luan Keng was taken in January 2006 at Changi)