On 7th January 2008 at 1047 hours, KC Tsang was witness to a number of Himalayan Swiftlets (Aerodramus brevirostris) among a flock of swifts and Barn Swallows (Hirundo rustica) hunting for insects stirred up by grass cutting activity at the grounds of Turf Club City. The number of birds hovering around was about 50.
The occurrence of Himalayan Swiftlet in Singapore has been mired in controversy since the 1990s when R. Subaraj, among others, first reported it as an uncommon passage migrant (Wang & Hails 2007). Unfortunately these observations were not authenticated with notes and thus not included in the latest Annotated Checklist of the Birds of Singapore.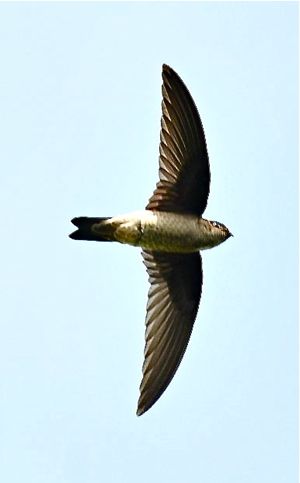 Now, KC has provided hard evidence in the form of an image. He posted his image in BirdForum.Net and got a response from Sean in Hiroshima, Japan, who noted:
"…think there are four possible swiftlet species in Singapore. …Two are resident – Black-nest and Germain's while two are migrants – Glossy and Himalayan.
"I have only seen three of the species, Black-nest, Germain's and Himalayan, but Himalayan seems right to me for the following reasons.
"Glossy can be ruled out, as it is very small, has dark throat that contrasts with white belly and a slightly forked tail. Black-nest is darker underneath and has no notch in the tail. It also has a pale rump band, though this cannot be seen in the picture. Germain's is possible as it is light underneath on throat and belly, but as it only has a shallow forked tail this seems unlikely. This species has a very obvious wide white rump, though again this is not viewable in the picture.
"So Himalayan with its relatively pale underparts and deeper notched tail seems most likely, They do have a paler area on the rump in some races, but never as white or obvious as Germain's or even Black-nest."
Most of the experienced younger birders are confident that it is Himalayan but the older ones are rather hesistant to give their outright support.
Except Subaraj, who is naturally jubilant, that he has been right all along: "Nice shot! Pity that you did not manage a shot of the upperparts as well but based on the curved, pointy wings and prominent tail notch, I would agree that this is a Himalayan Swiftlet.
"I cannot be certain of which race you have photographed though as there is no view of the upperparts and the colouration of a photo is not always the exact colour of the actual bird.
"Based on my observations over the years, the Himalayan Swiftlet is one of our commonest migrants. Most pass through on passage but birds can be seen throughout the wintering months. They can be seen anywhere in Singapore and Johor. Birds on passage can regularly be observed at various sites including MacRitchie, Changi Reclaimation, Serangoon, Tanjong Piai, Bintan or even on a boat between Singapore and the Riau Islands. At the Gap, at Frasers, hundreds can be observed moving through with Fork-tailed Swifts during passage.
"I have identified two races here; the nominate race brevirostris, which is very common on passage and in smaller numbers during the mid-winter period and the race rogersi (sometimes treated as a separate species called the Indochinese Swiftlet), which is mainly a passage migrant in small numbers.
"The nominate race appears slightly larger, is darker above with a narrow wide rump band, and a longer trail and wings. C.b.rogersi is slightly shorter winged and tailed, has a brownish wash to the upper plumage and the broader rump is buff. Both are prominently notched, in the tail.
"Most birders here live with an old-fashioned mind-set and still refuse to accept that this species can be readily identified in the field. That is why you will not find it on the NSS BG's checklist. It has been on my personal bird checklist for nearly a decade now. Elsewhere in the world, birders have no problem identifying this species in the field. They work hard with better optics and field id guides, to resolve the field characteristics of similar species. I spent years doing the same here but the so called "powers to be" scoffed at anything that they themselves have not bothered learning to identify!
"I will continue operating outside the box and am glad that you have chosen to do so too."
KC Tsang & R Subaraj
Singapore
February 2008
(image by KC Tsang)