Bali, an Indonesian island west of Java, has always projected an image of a tropical paradise to visitors – sun, sea and sand. The island is picturesque, the people friendly and the culture rich and at the same time mystifying. Besides, the cost is always affordable to budget tourists.
Standard packages offered to tourists wishing to visit Bali seldom cover bird watching. In fact when Connie SY Khoo and Lim Phaik Imm, suggested bird watching, travel agents invariably responded that Bali is not the place to bird-watch. In exasperation, they tailored a trip for their specific needs and returned to Malaysia fully satisfied with it – see earlier posting on White Herons of Petulu.
"We landed at Ngurah Ria International Airport on 8th November 2007 and travelled an hour to Ubud. Situated along the slope leading up the central mountains, this is the cultural and culinary centre where Balinese paintings and woodcarvings are plentiful.
"The standard tourist itinerary includes watching the Pemaksan Barong Denjalan (Barong & Kris Dance) based on the Hindu epics of Ramayana and Mahabarata, a visit up the mountain to see the active Kintamani volcano with a spectacular view of Batur Lake (above left) and of course the terraced rice fields of Bukit Jambul and Tegalalang (above right).
"Despite these distractions, we managed to bird watch around our bungalow at Ubud and saw the following: Brown-throated Sunbird, Plaintive Cuckoo, White-breasted Waterhen, Javan Munia (above, juvenile right), Spotted Dove, Peaceful Dove, Eurasian Tree-sparrow, Yellow-vented Bulbul, Streaked Weaver and Scarlet-headed Flowerpecker.
"Along the way we stopped by paddy fields and Bong Kasar Village where we saw some endemic species like Javan Kingfisher, Javan Munia and Bar-winged Prinia. Other birds seen include Wood Sandpiper, Scarly-breasted Munia, Long-tailed Shrike, Barn Swallow, Pacific Swallow, Javan Pond Heron, Cattle Egret, Little Egret, Zitting Cisticola and White-bellied Swiflet.
"The guide suggested a stop mid-way at Bedugul Botanic Gardens or UPT Konservasi Tumbuhan Kebun Raya 'Eka Karya' Bali. Bedugal, a mountain village quite similar to Cameron Highland, is about 70 km or 1 hour 30 minutes from Ubud. Here, we bird watched for 2 hours and spent more time on our return journey.
"This is a good birding area with scenic view and cool refreshing air. Species seen include: Pied Bushchat (Saxicola caprata) (above, top left), ?Brown Honey Eater (Lichmera indistincta) (above, top right), Grey-cheeked Green Pigeon (Treron griseicauda) (above, bottom left), Short-tailed Starling (Aplonis minor) (above, bottom right).
"We also managed to see a Fulvous-chested Jungle Flycatcher (Rhinomyias olivacea) (left)
Input by Connie SY Khoo and Lim Phaik Imm, images by Connie.
Map from http://images.google.com.my/imgres?imgurl=http://www.overseas-campus.info/images/map_Bali.jpg
Java Sparrow conservation 060108
The Java Sparrow (Padda oryzivora) is indigenous to Java and Bali, from where it spread throughout the tropical world as a result of deliberate release and escape of captive birds (above).
In its home country of Java, the highest concentration of the sparrow is around the Prambanan Temple area in Yogyakata. This temple, the largest Hindu temple complex in Indonesia, was built during the Sanjaya Dynasty around 732 and is currently designated a UNESCO World Heritage Site.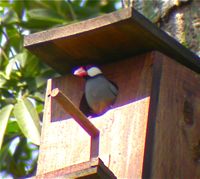 As a heritage site the complex is regularly maintained. The surrounding vegetation as well as any growths on the temple walls are cleared. Nests of these sparrows among the archeological complex are similarly removed. Such maintenance obviously affects the nesting sites of these sparrows.
The continued capture of the birds for the cage bird trade again has an effect on the overall population.
Kutilang Indonesia Foundation, an NGO, has initiated a conservation programme to ensure the survival of these beautiful Java Sparrows. One of its activities has been the provision of artificial nest boxes to give alternative nesting sites (left).
In 2007 two pairs of birds actually occupied these boxes and successfully raised a total of seven chicks, a sure sign of success for the efforts of the Indonesian NGO.
.
Input and images of the birds-nesting box by Sunaring Kurniandaru, image of Java Sparrow (top) courtesy of Peter Ericsson.