Albizia (Paraserianthes falcataria) trees have been in the local news since the recent spate of tree falls that resulted in a number of people being injured and even killed – locally as well as in neighbouring Malaysia. As a result of the bad publicity in the media, various government agencies have been quick to remove these large and graceful trees from wastelands all over Singapore.
The tree is native to countries in east Malesia to the Solomons. It was introduced and grown in the Singapore Botanic Gardens in the 1870s. It has been flourishing in wastelands ever since. The nitrogen-fixing bacteria that are found growing in the roots help the trees to proliferate in these nutrient-poor soils.
The tree is fast-growing, capable of attaining 20 metres in three years or more. It bears compound leaves, bearing small white flowers that develop into pods. It grows tall, with wide-spreading branches and as such was once commonly used as a shade tree in coffee and tea plantings. Because growth is rapid, the wood is soft and earlier used in the manufacturing of matches and packing boards.
Since the start of Singapore's Garden City Campaign in the 1950s, albizia has never been used as a roadside tree. In fact, any found growing near roads were removed. The shedding of branches during tropical storms and the aggressive roots that grow near the soil surface make it dangerous for such use.
Albizia trees are now confined to wastelands where they proliferate, helping to reduce soil erosion and providing refuge to a wide variety of wildlife (above). Yes, there is always the possibility of branches falling, but away from human habitation and in areas where few, if ever, any people venture, they should not pose any threat to life and limb. Their presence thus should be tolerated. To chop down these magnificent trees and replace them with other species is a waste of resources.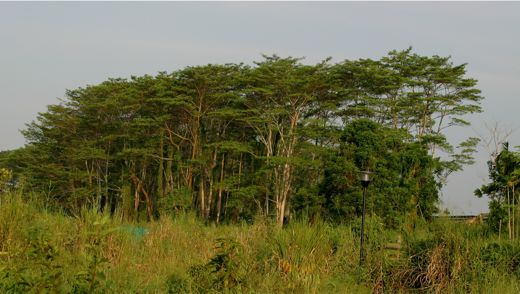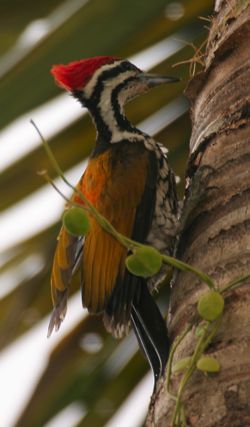 According to an article by Dr Ho Hwa Chew, these trees are rich in wildlife. There are at least 40 resident and migratory bird species that make use of the trees, either seeking food, nesting materials or a place to build their nests. Prominent among which are the Common Flameback (Dinopium javanense) (right), Long-tailed Parakeet (Psittacula longicauda), Dollarbird (Eurystomus orientalis) and Hill Myna (Gracula religiosa). The White-bellied Sea Eagle (Haliaeetus leucogaster), Changeable Hawk Eagle (Spizaetus cirrhatus) and Grey-headed Fish Eagle (Ichthyophaga ichthyaetus) make use of these trees to nest.
At the same time, natural cavities that develop in these old trees provide potential nesting holes for hornbills, as seen in an old and magnificent tree at Eng Neo. Although the pair of hornbills, Great (Buceros bicronis) and Rhinoceros (Buceros rhinoceros), are both escapees, not to mention that they are also both females, the fact that they were prospecting for a nesting cavity points to the value of albizia to the bird life of our Garden City, if not a City in a Garden – see 1 and 2 for details.
Also, an old, rotting albizia trunk nearby, that was never a danger to anyone, was the centre of a busy and exciting community of birds that fought for the privilege of making use of the few cavities for nesting, posted earlier: 1, 2, 3, 4 and 5.
So, where these large and beautiful trees pose no danger to anyone, can the authorities please leave them alone?
YC Wee & Ho Hua Chew
Singapore
January 2008
(This post has been commissioned by Yong Ding Li, who is concerned that these trees would continue to be indiscriminately removed. Images by YC Wee.)