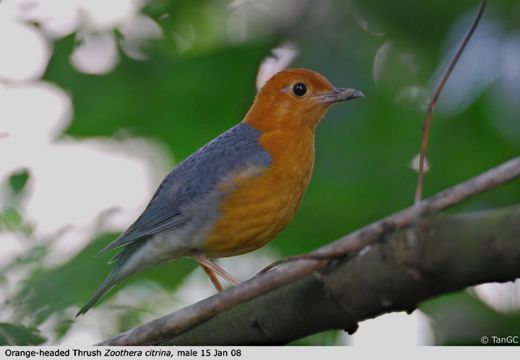 On the cloudy morning (1000-1100 hours) of 15th January 2008, Tan Gim Cheong was at Hindhede Quarry, Bukt Timah Nature Reserve when he encountered an Orange-headed Thrush (Zoothera citrina)…
"Arrived at Hindhede to the sound of a large group of people having team building activities.
"Looked around and located the beautiful Orange-headed Thrush (which betrayed its presence with its singing) on the ground. Moving about on the ground, it sang for about 10 minutes, foraged a bit, sang a bit more, then settled to preen. It flew three or four times, some of which were to avoid foraging squirrels/treeshrews. Its flight was swift and direct. During the first flight, it flew onto a branch at eye level and preened itself a bit. Even when the big group of people moved near, the OHT didn't seem too concerned."
Gim Cheong returned to the site the next day, this time from 1600-1700 hours when it was partly cloudy before turning sunny…
"Quiet today, very few people. OHT did not sing today. Foraging on the ground, it 'poped' across the openings in the vegetation every now and then allowing for unblocked views. As I thought about its behaviour, the day before and today, I get this feeling that as it foraged nonchalantly, it was also curious and was observing me as much as I was observing it!"
This thrush breeds in the Himalayas, South China, through to Southeast Asia. It winters in the Malay Peninsular, Java, Sumatra, Bali and Borneo. It is a rare visitor to Singapore.
The above is an interesting piece of observation by a young perceptive birdwatcher. It is heartening to note that more and more birdwatchers are now sending reports of bird behaviour to e-groups like pigeon-holes, BESG and even wildbirdSingapore. Obviously competition is good for everyone.
Tan Gim Cheong
Singapore
January 2008