It has to happen and it did happen – a photographer documenting a new species for Singapore. This elusive bird appeared for just about 15 minutes, after which it has yet to be sighted again. With hard evidence in the form of images, there can be little doubt that the pigeon has to be what it is claimed to be.
In the past there were always doubts in the minds of so-called "experts" when such claims were made by newbies. And new sightings were only recorded long after, when actually seen by these "expert" birders. A new trend is emerging where photographers would be at the forefront of new sightings.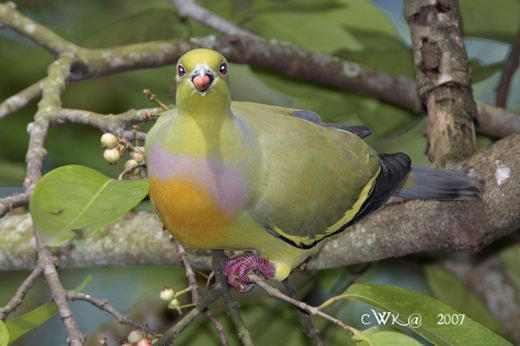 Dr Jonathan Cheah Weng Kwong was at the Japanese Garden in Jurong on 22nd December 2007 when he spotted a lone bird at the salam tree (Syzygium polyantha). It was quietly eating the fruits for about 15 minutes before it flew off. He posted his best image in Avian Watch Asia (above) and there it would have remained forgotten except that it attracted the attention of birder Albert Low.
On 23rd December Albert wrote: "…What I see, and incidentally what Ding Li sees, in the picture, is a possible Orange-breasted Green-pigeon (Treron bicincta). This species, ironically, was a lifer for both of us when we visited Udawalawe National Park in Sri Lanka just last week. The significant ID feature missing from the picture is the vent colour. For the uninitiated, this species has been recorded as far south as Port Dickson in Penisular Malaysia and a part of me has suspected that just like Jambu Fruit Dove (Ptilinopus jambu), could occur in Singapore, particularly during big figging seasons.
"…I would strongly urge all birders and photographers visiting this area particularly over the Christmas Break to scan the tree diligently for Treron pigeons and attempt to take more shots should there be one or more similar birds around. If it is indeed a OBGP, it would mark a significant range extension for the species, obviously pending debate on its origin."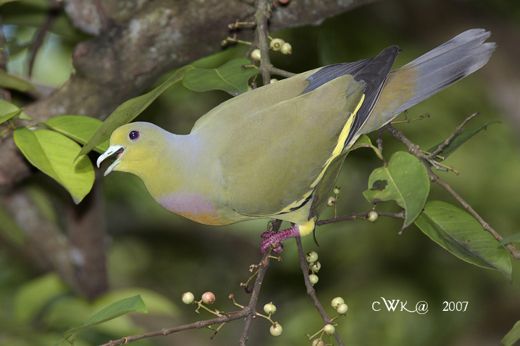 As an update, Albert wrote on 24th December: "Just an update for the seekers. Jonathan has kindly sent another picture of the bird in question (above). In addition, he has mentioned that the pictures were taken last Saturday and at the entrance to Japanese Garden, thus it is not from overseas and isn't that dated either."
This is the first sighting of the Orange-breasted Green Pigeon in Singapore, a male bird. The bird looks like the Pink-necked Green Pigeon (Treron vernans) except that the forehead, face and throat are greenish yellow. Also, the mauve-pink upper breast area is smaller and does not extend to the neck. The outer feathers of the tail is blackish, with a broad pale grey subterminal band.
According to Wells (1999), it is found as far south of the Malay Peninsular as Port Dickson. The bird is fairly common in eastern Java and northern Bali.
Jonathan Cheah Weng Kwong & Albert Low
Singapore
January 2008
Images by Johathan.
References:
1. Baptista, L. F., Trail, P. W. & Horblit, H. M. (1997). Family Columbidae (pigeons and doves). Pp. 60-245 in: del Hoyo, J., Elliott, A. & Sargatal, J. eds. Handbook of the birds of the world. Vol. 4. Sandgrouse to Cuckoos. Barcelona: Lynx Editions.
2. Gibbs, D., Barnes, E. & Cox, J. (2001). Pigeons and doves: A guide to the pigeons and doves of the world. Sussex: Pica Press.
3. Wells, D.R. (1999). The birds of the Thai-Malay Peninsular. Vol. I, Non-passerines. Academic Press, London.