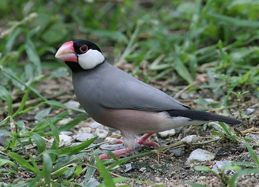 The Java Sparrow (Padda oryzivora) is indigenous to Java and Bali, from where it spread throughout the tropical world as a result of deliberate release and escape of captive birds (left).
In its home country of Java, the highest concentration of the sparrow is around the Prambanan Temple area in Yogyakata. This temple, the largest Hindu temple complex in Indonesia, was built during the Sanjaya Dynasty around 732 and is currently designated a UNESCO World Heritage Site.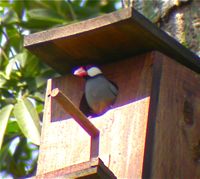 As a heritage site the complex is regularly maintained. The surrounding vegetation as well as any growths on the temple walls are cleared. Nests of these sparrows among the archeological complex are similarly removed. Such maintenance obviously affects the nesting sites of these sparrows.
The continued capture of the birds for the cage bird trade again has an effect on the overall population. Kutilang Indonesia Foundation, an NGO, has initiated a conservation programme to ensure the survival of these beautiful Java Sparrows. One of its activities has been the provision of artificial nest boxes to give alternative nesting sites (left).
In 2007 two pairs of birds actually occupied these boxes and successfully raised a total of seven chicks, a sure sign of success for the efforts of the Indonesian NGO.
Sunaring Kurniandaru
Indonesia
January 2008
(Image of the birds-nesting box by Sunaring Kurniandaru, image of Java Sparrow (top) courtesy of Peter Ericsson)