The offshore island of Pulau Ubin is a haven for a small flock of Oriental Pied Hornbill (Anthracoceros albirostris) that is a major attraction for Singaporeans as well as tourists. These large white-and-black birds with a prominent casque never fail to excite visitors. In fact, many locals are still unaware of the existence of these birds, although a few do occur on the main island (1, 2, 3).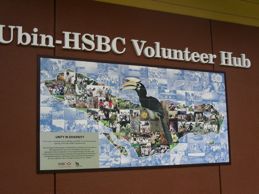 There is a large billboard in Ubin that shows a map of the island with a prominent image of the hornbill in the centre. The map is for the information of visitors but hornbills are also attracted to it – not for the information but because of the large image of a hornbill.
According to Ali Ibrahim, a National Parks Board officer based there, the billboard had to be replaced recently as it was damaged. The culprit? The Oriental Pied Hornbill!
The bird or birds (we are not sure whether one or more birds were involved) regularly confronted the image, pecking at it, so much so that the board was damaged and had to be replaced.
A new billboard has now been installed, no doubt hornbill-proof (above).
We are aware that birds regularly confront the side mirrors of cars as well as windows because they perceive their images to be rival birds (1, 2, 3, 4, 5). We even have an image of an Oriental Pied Hornbill admiring its reflection, taken by Allan Teo (right). However, this is a first local report of a bird confronting a picture.
Ali Ibrahim, Angie Ng & Allan Teo
Singapore
December 2007
(Image of billboard by Angie Ng, hornbill-reflection by Allan Teo)