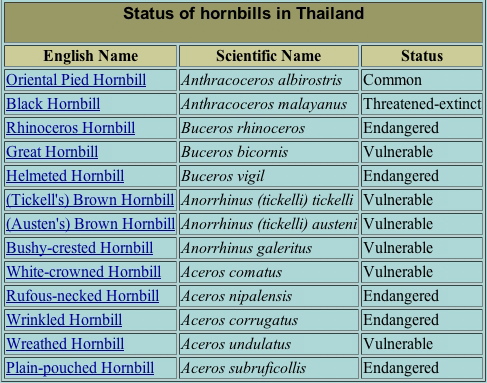 Worldwide, there are a total of 54 species of hornbills. Of these 13 have been recorded in Thailand (above). The panel below shows the Great (top left), Wreathed (top right) and White-crowned (bottom left), all vulnerable; while the Helmeted (bottom right) is endangered.
The Rhinoceros (below left) and Wrinkled (below right) are both also endangered. [Correction: below right should be Wreathed, which is vulnerable. Thanks Ding Li for the correction.]
The Bushy-crested (below right) is vulnerable. In fact all the species except Oriental Pied Hornbill (below left) which is common, are in one way or other need protection. The Black Hornbill is the most threatened, with a status of threatened-extinct.
In an effort at conserving these magnificent birds, Dr Pilai Poonswad formed the Hornbill Research Foundation in 1993. Based in the Science Faculty of Mahidol University, the Foundation initiated a series of research projects on the ecology of these birds.
Those who are concerned about the survival of Thailand's hornbills can adopt a family of these birds at only US$120. This money will go towards getting the villagers involved in the conservation of these birds (left). Previously, these rural folks regularly collected hornbill chicks to sell, to supplement their meagre income. Now that they are involved in the conservation of the birds, the villagers are paid a small sum to collect data and to protect the birds against poachers.
Log in to the website of the Hornbill Research Foundation to learn more and to adopt a family of birds.
Input from Hornbill Research Foundation; images courtesy of Dr Pilai Poonswad except Oriental Pied by YC.