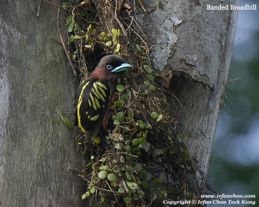 The Banded Broadbill (Eurylaimus javanicus) is a colourful bird that was once a rare resident in Singapore. It has not been recorded in Singapore since the 1920s. However, it can still be found across the causeway.
Irfan Choo is sharing with us his images of the Banded Broadbill collecting nesting materials of leaves and fern stems that he documented in Malacca, Malaysia . The bird above is seen among a growth of epiphytic dragon's scales fern (Pyrrosia piloselloides) growing in the fork of an old tree.
The male, with a distinct blackish breast band (below left) has a mass of the fern's dead stems in its bill together with what looks like pieces of dead leaves. The female, lacking this breast band (below right) is collecting fresh leaves for the nest they are building.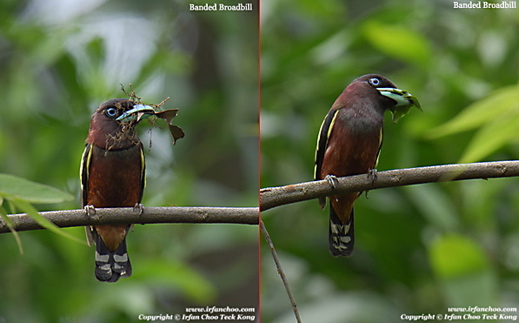 The untidy, pear-shaped nest with a distinct tail is suspended from a side branch of a large tree, often close to the main trunk. The entrance, completely covered by a long, slanting porch, is at the upper half of the nest.
Nest materials include twigs, bamboo and other leaves, grass and fern stems and roots. The outside of the nest is decorated with bryophytes, lichens and cobwebs while the inside is lined with leaves.
Input and images by Irfan Choo – www.irfanchoo.com