On 13th November 2007, Kevin Lam of Nature Spies alerted me to the excellent images posted by Calvin Chang in ClubSnap. Through the good office of Kevin, I got in contact with Calvin who graciously gave me permission to post his images in Multiply.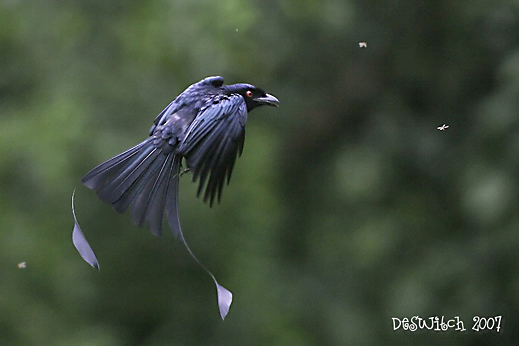 It was evening at the summit of the Bukit Timah Nature Reserve and it had just stopped drizzling when Calvin Chang aka De'Switch was witness to a termite hatch. A hatch is when the reproductive termites emerge from their mounds to fill the air with their presence. The sexes will couple in the air to then land on the ground, shedding their wings and moving on to start a colony of their own.
During this hatch there would be an orgy of feasting by a mix collection of birds and later the ground will be covered with a carpet of discarded wings. No doubt, most of the termites will be food for birds but there would be many survivors to propagate the species.
As Calvin reported, there were numerous termites (it could be the tail end of a hatch) in the air and there were three Greater Racket-tailed Drongos (Dicrurus paradisus) partaking in the feast. The lighting was definitely not ideal for photography, not to mention the black birds against a darkening background. And there was an inconsiderate jogger who cared only for his jogging and care not that an exciting natural event was unfolding in front of his eyes. So the jogger simply jogged on despite a request to hold on, chasing the birds away as a result.
Despite all these setbacks, Calvin still managed to get a few excellent shots that I am showcasing here. And this is the first time I have seen images of drongos actually catching insects on the wing.
Input and images by Calvin Chang aka De'Switch; Kevin Lam of Nature Spies alerted BESG on the initial posting of the images.