Birders are familiar with the mobbing behaviour of birds, especially when it is directed at raptors and owls (1, 2, 3, 4, 5). However, they are less familiar with birds mobbing non-avian predators.
There are enough reports in the avian literature to show that this is not an uncommon phenomenon. One reason for this lack of awareness can be because the snake being mobbed would most probably be among the vegetation and not easily visible. And birders may mistake the ruckus as mobbing of a raptor. The other reason would be the obvious one, that local birders are unaware that mobbing can extend to predators other than birds.
With the present posting, it is hoped that birders will be more aware of this phenomenon and be more vigilant when in the field.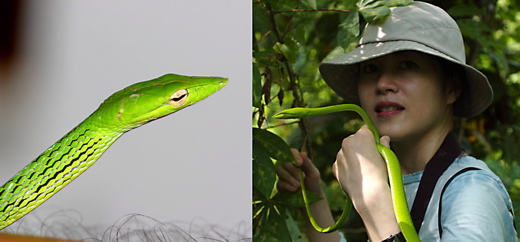 On October 2006 KC Tsang was observing an Oriental Whip Snake (Ahaetulla prasina) stalking a Crimson Sunbird (Aethopyga siparaja). Just when the snake was about to strike, Ping, who is Amy Tsang's cousin, saved the bird by grabbing it (above right). A close up image of the snale is shown on the left and KC has specifically pointed out that the person handling the Oriental Whip Snake is not Ping, considering the hairy nature of the arm.
Yes, snakes commonly catch birds, their fledglings and their eggs but there have been few, if any, documentation of such activities. And it would be natural for the parent birds to raise an alarm when a snake is about to raid their nest.
But mobbing by a number of species and working together?
Some two years ago, Amy and KC Tsang saw a huge Red-tailed Ratsnake (Gonyosoma oxycephalum) being mobbed by birds in the Central Catchment area (left). (These snakes can grow up to 240 cm in length.) The birds involved in the mobbing included Striped Tit Babblers (Macronous gularis), two Greater Racket-tailed Drongos (Dicrurus paradisus), bulbuls and some others which KC was not able to identify. The forest was just alive with screaming birds, hopping from branch to branch just out of reach of the snake. Squirrels were also there chattering away.
Another incident that KC encountered was with an Oriental Whip Snake, also a fairly big one, gliding from branch to branch that had attracted the attention of the forest birds.
Matheus et al. (1996) reported seeing a snake grabbing the fledging of a pair of adult Golden-hooded Tanagers (Tangara larvata) in Eucador. The alarm calls the parent birds made attracted the attention of other bird species that flew in to mob and dive-attack the snake. Although the snake swallowed the fledgling within 5 minutes, the mobbing continued for half an hour. A total of 14 bird species joined in the mobbing, scolding and attacking the snake.
Input by KC Tsang, images by KC except the hairy arm by ?YC.
Reference:
Matheus, J.C., Wittmann, U., Olaf, J., Leutfeld, M., & Schuchmann, K-L. (1996). Reactions of birds to nestling predation by a snake. Ornithologia Neotropical 7:163-4.