On 15th October 2007, KC Tsang reported: "This morning was at Sungei Bulog Wetland Reserve, and the place was quite busy with lots of waders. When they fly low over you the noise made by the flapping wings was quite impressive.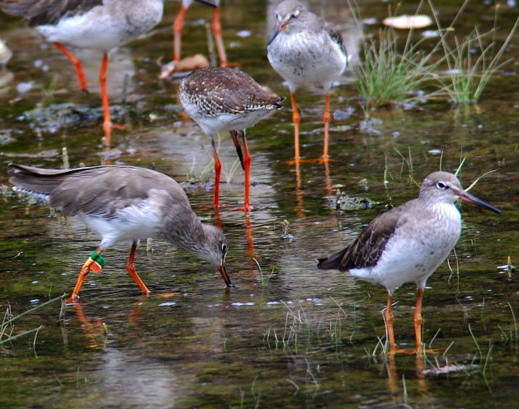 "So took quite a number of shots, and later downloaded the pictures into my computer. On examining the pictures, I found a number of Common Redshanks (Tringa totanus) with Green over Orange Flags on their right legs, denoting that they were tagged in the North Yellow Sea, China area (above).
"So is there any one out there able to share with us about the migratory routes of these bird. So the birds tagged in Singapore could thus be found in China too?
Ong Tun Pin, a birder interested in shore birds, commented: "If this is indeed green/orange, then it should be from Dandong-Tangshan, China (the northern part of the yellow Sea) – Yalu Jiang…"
Checking with the various overseas groups involved in tagging shorebirds revealed that the flag was actually green over white, which is coded for Singapore. The white has been stained with mud, giving the appearance of orange. What this means is that the birds were tagged in the Sungei Buloh Wetland Reserve. This has further been confirmed by Jamers Gan of the Sungei Buloh Wetlend Rerserve in Singapore. The image below shows the flag clearly, showing green over white.
So the excitement was short-lived, but this brings to the forefront the exciting bird tagging exercise that has been going on in Singapore. Hundreds of birds have been tagged, starting from 2000 and a high percentage subsequently recaptured, proving that they have returned after a short absence. Unfortunately, it is doubtful if any had been captured overseas, so we are not able to have proof of their migratory flight.
The Common Redshank is a common winter visitor and passage migrant. The bird breeds in the Himalayas and Tibet and winters in the Malay Peninsular, Singapore, Sumatra, N Natuna Island, Java and Bawean Island. The species breeds extensively across Europe to East Siberia and winters in tropical Africa, the India subcontinent, Sri Lanka, South China, Myanmar, the Greater Sundas and Bali.
KC Tsang, Ong Tun Pin & James Gan
Singapore
November 2007
References:
1. Gan, James (2007). Bird ringing in Sungei Buloh Wetland Reserve in 2006. Wetlands 14(1):5-8.
2. Wang, L.K. & Hails, C. J. (2007). An annotated checklist of the birds of Singapore. Raffles Bull. Zool. Suppl. 15:1-179.