Heliconias (Heliconia spp.) are native to Central and South America and some islands of the South Pacific. Because they bear large, colorful and conspicuous flowering branches in various sizes, shapes and designs, they are favourite garden plants throughout the tropics and subtropics. They grow fast and within months they flower. Heliconias are excellent as border plants, for landscaping or even when grown in large containers.
The flowering branch or inflorescence is either erect or pendent and is the most conspicuous feature of the plant. Borne along the inflorescence are many colourful bracts – red, pink, orange, yellow or even green. Found within these bracts are the flowers.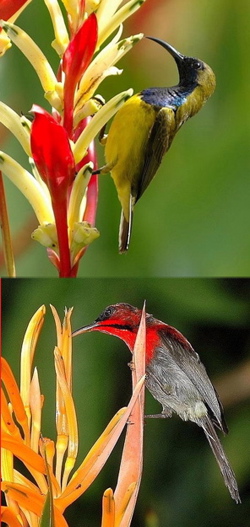 In their native countries, hummingbirds are the main pollinators of the flowers in the New World tropics, replaced by bats in the Old World tropics. The length and curvature of the hummingbird's bill match the length of the flowering tube and this helps in pollination.
However, outside the neotropical regions where no hummingbirds are found, sunbirds have exploited this feeding niche and regularly visit heliconia flowers. The images on the left show the Olive-backed Sunbird (Cinnyris jugularis) (top) and Crimson Sunbird (Aethopyga siparaja) (bottom) collecting nectar from heliconia flowers. The bills of these sunbirds are different from those of hummingbirds and although they benefit from the nectar, in most cases do not help in pollinating the flowers.
In fact, if you want to attract sunbirds to your garden, a sure way is to grow heliconias.
As bats pollinate these flowers in the Old World tropics, it would be interesting to check out the situation locally. This is a challenge thrown to the local bat enthusiasts.
The flowers last only a day but as there are many flowers per bract and many bracts per inflorescence, the flowering period is extended for weeks or even months.
One of the best place to view sunbirds visiting heliconia flowers is the Singapore Botanic Gardens. Birding tourists make it a point to spend a few hours there to birdwatch – and to check out the heliconias and sunbirds .
YC Wee
Singapore
November 2007
(Images of sunbirds visiting the flowers by Johnny Wee)