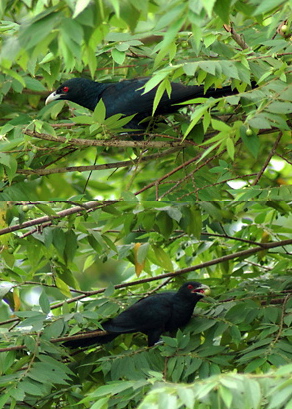 More than a year ago, KC Tsang sent in images of a male Asian Koel (Eudynamys scolopacea) eating the fruits of Indian cherry (Muntingia calabura) in his father-in-law's garden (left). I did not pay much attention to them then as these fruits are sought after by many species of birds.
Then last year KC sent in an interesting account of the Orange-bellied Flowerpecker (Dicaeum trigonestigma) manipulating these fruits. And this year we had a whole series of images by Chan Yoke Meng of the same species of flowerpecker squeezing the contents of the fruits by a slightly different method.
Rediscovering the koel's images eating the fruits, I was fascinated by the fact that this biggish bird simply swallows the fruit whole. Having a wide gape, koels can also swallow the fruits of the Alexandra palm (Archontophoenix alexandrae), to regurgitate the seeds in due course. There is no need to regurgitate seeds of the Indian cherry as they are small and numerous, easily passed through the gut to exit at the other end.
The Asian Koel is essentially a fruit eater. The different fruits taken include figs (Ficus spp.), papaya (Carica papaya), Morus, Zizyphus, Brazilian cherries (Eugenia uniflora), tamarind or assam (Tamarindus indica), Sterculia foetida, yellow oleander (Thevetia peruviana) and fruits of mistletoes.
Palm fruits include fishtail palm (Caryota sp.), Chinese fan palm (Livistona chinensis) and oil palm (Elaies guineensis).
Also, flower nectar and flowers of blue pea (Clitoria ternatea).
The bird has also been reported to eat grasshoppers, caterpillars, snails and birds' eggs.
KC Tsang & YC Wee
Singapore
September 2007
Reference:
Payne, R.B. (1997). Family Cuculidae (cucoos). Pp.508-607 in: del Hoyo, J., Elliott, A. & Sargatal, J. eds. Handbook of the birds of the world. Vol. 4. Sandgrouse to Cuckoos. Barcelona: Lynx Editions.