On 7th October 2007, Erik Mobrand wrote: "For the past few weeks we have had two noisy koels outside our window regularly. What is striking is that these individuals (a female and a male, perhaps juvenile) do not make the typical koel call. Instead, they have this hoarse squawk, which we hear many times during the day – not just at dawn and dusk, when we usually hear koels.
"What is going on? Do young koels try to imitate the House Crows they grew up with? The call has the same rhythm as the House Crow's. I've seen these koels fighting with House Crows."
We received two snapshots (below) and a video clip the next day and a note: "…We see this koel almost daily now out the window of our fourth floor flat. She sat in this tree calling on and on for perhaps two hours yesterday afternoon. A male making a similar call has also come by, though less frequently."
Click on the link to view the video clip provided by Erik to hear the strange call: koel-clip.wmv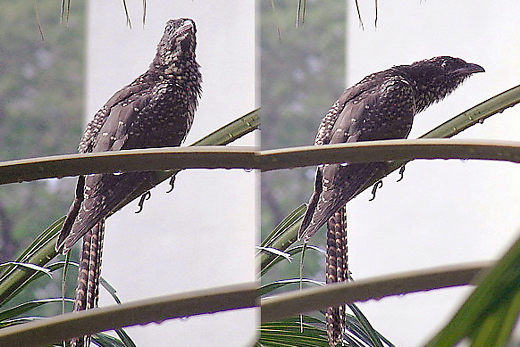 The bird in the images above is a female Asian Koel (Eudynamys scolopacea). And Asian Koels have a repertoire of different calls – at least seven loud calls have been reported. The usual call we hear in the mornings and evenings is the ascending loud ko-el-ko-el-ko-el-ko-el-ko-el-ko-el that begins slowly but may become faster with time. Then there is also the loud, harsh kroik-kroik-kroik. These are made by males and usually answered by other males that are around.
Click on the link provided to hear these calls, recorded by Sutari Supari and digitally processed by Wang Luan Keng: asian_koel.mp3
Wells (1999) describes an even-toned woik-woik-woik-woik that is made mainly at dusk, from roosting perches. This call sounds like what Erik recorded in the video. However, therecorded call was made during the afternoon, not at dusk.
Flying fledglings give a loud and harsh kaaa, rather like a young crow, when begging for food from its foster parents, the crows. So far, there is no evidence that juvenile koels imitate crows.
Until now!
Through Wang Luan Keng, the images and video clip from Erik were forwarded to Prof R B Payne, University of Michigan, Ann Arbor, Michigan, USA, the world's foremost authority on cuckoos. Back came the reply:
"Thanks for sending the cuckoo video. The clip looks like a grown fledgling koel, plumae black with some whitish or buff bands on tail and wing, white spots on the back, and the call is like the begging call of crows.
"The call is like the calls of adult house crows as in the Birds of the Western Palearctic vol 8, 1994, p148, where the description says "food calls of older young a strangled 'rekk-keck, reckkeck'" which sounds about right, and the calls of the adults are similar too, in time (0.3-0.8 sec), pitch and frequency envelope (broadband, most sound at 1-2 kHz).
"Other crows in BWP do have words and figures of begging calls of young and the calls of adults – carrion crow has food-begging call of incubating female where the audiospectrogram looks a lot like your koel, and the word description sounds about the same too.
"Some other cuckoos have begging calls a lot like the begging calls of their foster species – African striped cuckoo Clamator levaillantii is the best known.
"I don't know that a begging-call mimicry has been described for koels – for koels in Australia they say a hand-reared koel at nine weeks old was "a loud, varied, continual dialogue of sharp trills and squeaks akin to 'wheeet-oop-weeet-wheet-wheeet-op" occasionally interspersed with high pitched screeches. The paper doesn't show an audiospectrogram of this young bird. – Maller, C. J. and Jones, D. N. (2001) Vocal behaviour of the Common Koel, Eudynamys scolopacea, and implications for mating systems. Emu 101: 105-112."
Erik Mobrand & Prof RB Payne
Singapore
October 2007
(Images and video by Erik Mobrand)
References:
1. Payne, R.B. (1997). Family Cuculidae (cucoos). Pp.508-607 in: del Hoyo, J., Elliott, A. & Sargatal, J. eds. Handbook of the birds of the world. Vol. 4. Sandgrouse to Cuckoos. Barcelona: Lynx Editions.
2. Wells, D.R. (1999). The birds of the Thai-Malay Peninsular. Vol. I, Non-passerines. Academic Press, London.