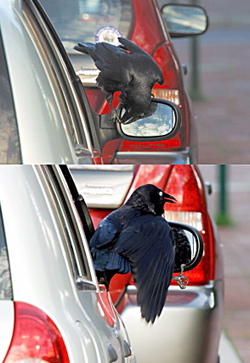 Johnny Wee returned from Perth, Australia recently and sent in these images of a crow acting aggressively when confronted by its image in the car's side mirror. Yes, all over the world birds react the same when they see their image on a shiny surface.
While on this subject, I am also posting two other images sent in earlier – one on the Long-tailed Shrike (Lanius schach) by Dr Jonathan Cheah Weng Kwong (below left) and the other on the Oriental Pied Hornbill (Anthracoceros albirostris) by Allan Teo (below right).
Readers are referred to a number of earlier posts on other species of birds and their reactions to their own reflections 1>, 2.
Johnny Wee
Singapore
September 2007
Images by Johnny (crow); Dr Jonathan Cheah Weng Kwong (shrike) and Allan Teo (hornbill).