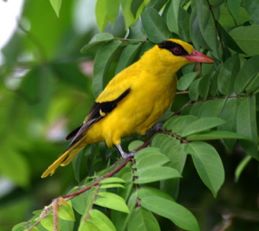 According to Daisy O'Neill, Black-naped oriole (Oriolus chinensis) not only raid nests for eggs, they are also chick killers. She witnessed a premature chick being dragged out of the nest by an oriole some years ago. The victim was dropped to roast dry on the concrete floor. "I have yet to observe an oriole turn flesh eating," she says.
Below is her experience on the Black-naped Oriole after reading the earlier account of this bird raiding the nest of the sunbird.
"The earlier raid of eggs from sunbird's nesting site happened many years ago when my house renovator pointed out to me during the balcony extention project. The pendulated nest was overhanging from my balcony roof, then without a floor. Frantic calls of a pair of Olive-backed sunbirds (Cinnyris jugularis) caught my attention. From my window, I saw a yellow bird 'wearing a 'Zorro's black mask' took seige of the nest and started probing into the nest cavity.
"I 'shooed.' the bird away with loud clapping of my hands. I did not even own a pair of binoculars then!
"Whether Black-naped Orioles are just vindictive destroyers or opportunistic consumers of their raids, I have insufficient statistical observations to provide confirmation. I think, the next opportunity I get, I should allow nature to take it's course and observe – and I will let you know. It is going to be painful to see chicks get taken. Hopeful it is one that is too late for me to intervene.
"One thing for sure, whenever Yellow-vented Bulbuls (Pycnonotus goiavier) turn my balcony into their maternity home, Black-naped Orioles are never far away. Flocks of them roost nightly in the row of matured Angsana trees (Pterocarpus indicus) opposite my residence.
"Quite recently, I witnessed one that came right up and perched on the balcony grill for a good 'look see' after having observed that a pair of bulbuls were 'busy' at the balcony.
"I came to the conclusion that although Black-naped Orioles are attractive, quick and witty, with a personality of their own, they are rouge birds with predative instincts with a notion to just destroy. It appears to be their speciality trait."
Daisy O'Neill
Penang, Malaysia
August 2005
(Image by YC Wee)