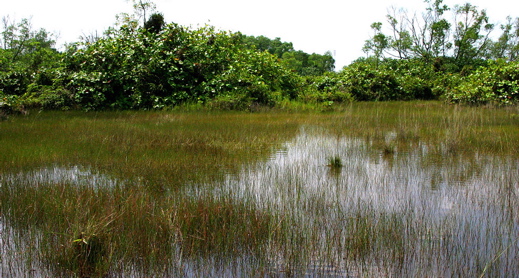 On 2nd April 2007, Tang Hung Bun wrote: "Many of us have been to Tuas marshland for birding (above). While the number of dragonfly species seen there is less than that in the sedge ponds in Marina, there are some really interesting species.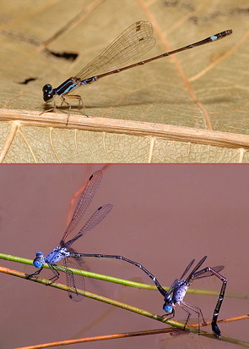 "Loong Fah, Yangchen and myself paid a visit to Tuas wetland last Saturday and saw the damselfly Mortonagrion falcatum (both males and females) (left top). This species is listed as critically endangered in the forthcoming new edition of the Singapore's Red Data Book. Another intersting species is Lestes praemorsus, which thrives in Tuas marshland, but nowhere else in Singapore (left bottom). Tuas wetland is going to be destroyed soon for the development of motocross site. It's really very sad.
"How nice it would be if people are willing to alter their development plans in order to protect the habitat of wildlife?"
On 30th June 2007, Hung Bun again wrote: "Construction (destruction, rather) work in Tuas wetland has begun and bulldozers are already in action (below). Today, we found that the best part of the wetland, where we found the most species of dragonflies, is already gone. The number of species seen today is 13 compared to 19 we saw in a previous trip. The critically endangered Mortonagrion falcatum could not be seen at all.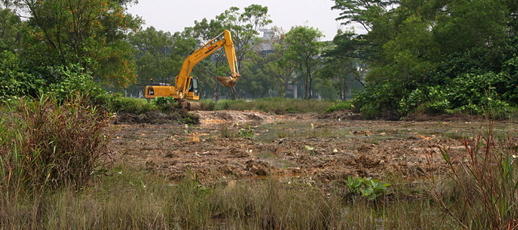 "As we were checking on the dragonflies, we noticed some orchids and pitcher plants (below: Nepenthes gracilis and habitat, top; Bromheadia, bottom left and Arundina, bottom right).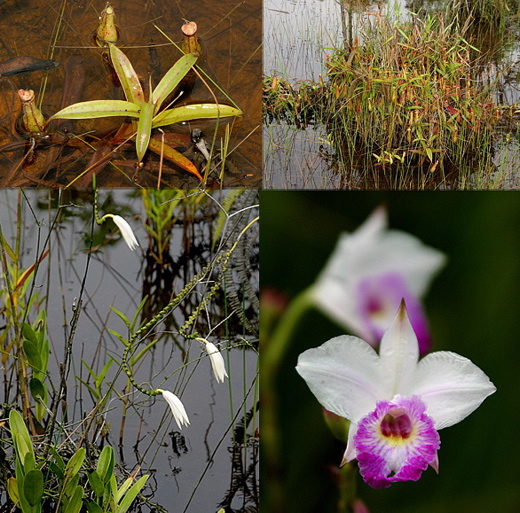 "Tuas wetland will be converted into a motocross race course (see media reports, 13th July 2007, below). Birdlife there will be gone too. Typical species there are snipes and Red-Wattled Lapwing (Vanellus indicus).
"I believe that Mortonagrion falcatum is now extinct on the Singapore mainland. Hopefully, it still occurs in Tekong Island."

Tang Hung Bun
Singapore
August 2007
(Images by Tang Hung Bun except Mortonagrion falcatum by Cheong Loong Fah.)