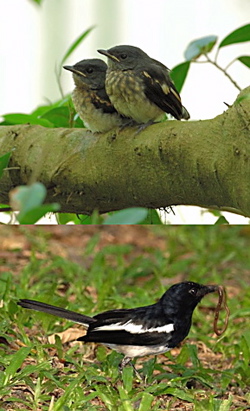 Many birds will try to distract you if you are near their nest, especially when there are chicks around. I have personally experience a Yellow-vented Bulbul (Pycnonotus goiavier) as well as a Large-tailed Nightjar (Caprimulgus macrurus) trying to get me away from their nests by trying the "broken wing" trick.
The Oriental Magpie Robin (Copsychus saularis) does something else.
Last week, Johnny Wee came across a male Oriental Magpie Robin accompanied by a pair of recently fledged chicks perched on a branch of a tree (left top). The adult bird was foraging on the ground and found an earthworm to feed the hungry fledglings (left bottom).
When the bird noticed that Johnny was around, it flew away from the fledglings and had its back facing him, looking back all the time. It cocked its tail right up, showing off the prominent white margins, fanned it wide and then lowered it (below). At the same time the wings were spread downwards. All the time it was making scolding calls.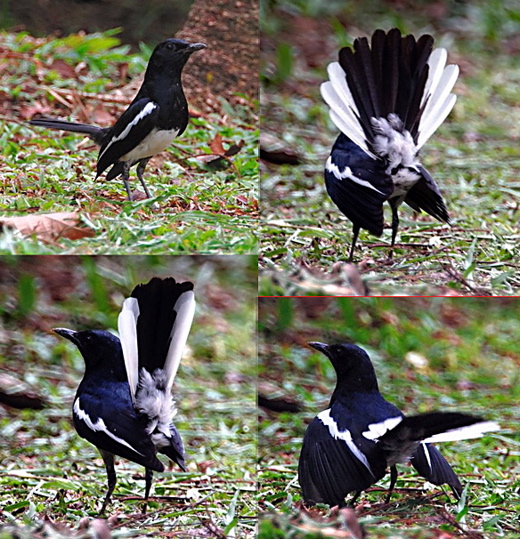 Obviously the bird was trying to lure Johnny away from the fledglings. When the trick did not work, it flew off in the opposite direction.
Smythies (1999) mentions that the bird, when on the ground, lowers its tail, expands it into a fan, then closes and jerks it up over the back, past the vertical. There is no mention that this is a distraction tactic. Wells (2007) records that "both sexes regularly cock the tail vertical and part-fan it to expose white margins; probably signal behaviour that is often accompanied by scolding calls."
Johnny Wee
Singapore
August 2007
References
Smythies, B. E. (1999). Birds of Borneo. Kota Kinabalu: Natural History Pub. (Borneo) Sdn. Bhd. & The Sabah Society. 4th ed, revised by G. W. H. Davison.
Wells, D.R. (2007). The birds of the Thai-Malay Peninsular. Vol. II, Passerines. Christopher Helm, London.