The Sungei Buloh Wetland Reserve is famed for its migratory birds. But there are more than migratory birds. There are a number of uncommon resident species that can be seen, like the Stork-billed Kingfisher (Halcyon capensis) (below: top left). Common residents species include Brown-throated Sunbird (Anthreptes malacensis) (below: bottom left), Grey Heron (Ardea cinerea) (below: bottom right) and Ashy Tailorbird (Orthotomus ruficeps) (below: top right). Once in a while, you may be able to see the Milky Stork (Mycteria cinerea), an escapee.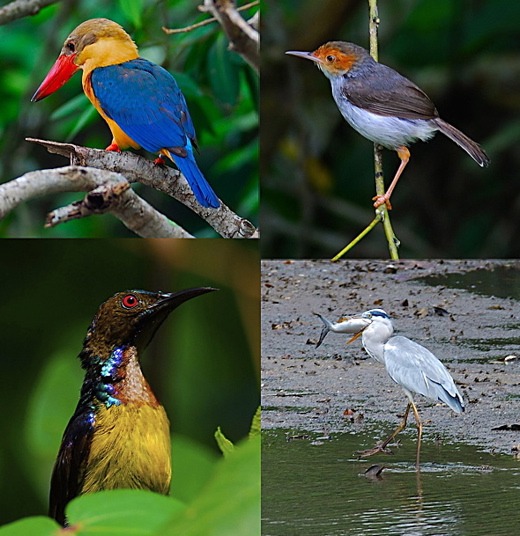 Besides birds, there are a number of interesting animals like the Plantain Squirrel (Callosciurus notatus singapurensis) (below: bottom left), Common Flying Dragon (Draco volans) (below: bottom right) and the large Malayan Water Monitor (Varanus salvator) (below: top right). Sometimes you can even see the heavily camouflaged Shore Pit Viper (Trimeresurus purpureomaculatus) (below: top left). The monitor lizard and pit viper are generally harmless, unless you go out of your way to confront them.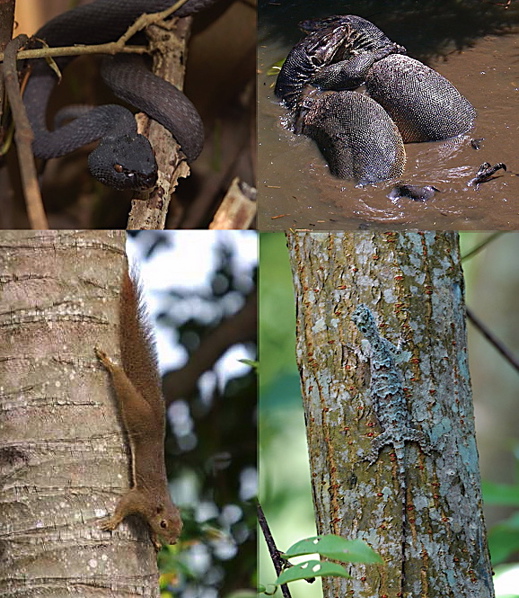 There is another, larger reptile that has always been lurking in the reserve for sometime now. There are conspicuous signs all around warning of the crocodiles (below top). Once in a while you can spot one in the water.
On 10th July 2007, KC Tsang was taking his morning walk in the reserve when he was confronted with a 2-metres long crocodile (below bottom). Well, the reptile did not ambush him. It was actually sleeping peacefully under some bushes. But it was still a shock to come face to face with such a large predator.
As KC continues, "Last year there was one that went up to the visitors center and was taken away… This one is quite far away at the other end of the park, and hopefully it will stay away from the visitors center.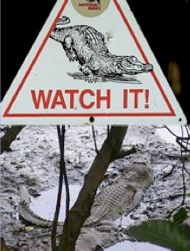 "These must be the ones that may have escaped from the croc farms when Kota Tinggi area got flooded, and are now slowly floating down stream."
KC has never taken the croc warning signs seriously, like everybody else, but not so now – especially after he came face to face with a big one.
According to R. Subaraj: "Actually the crocs have been around at Buloh for a few years now and we believe that they may be wild as photos appear to show genuine Estuarine Croc (Crocodylus porosus) rather than the hybrid estuarine/Siamese variety in most croc farms.
"We just don't talk too much about their presence because many people are paranoid about crocs and elsewhere in Singapore, most croc sightings become a hunt to get rid of them. They are the top mangrove predators and along with the Smooth Otters (Lutrogale perspicillata), their return to Buloh is a good sign that the habitat there is maturing well and the protection afforded to the reserve is reaping rewards. There is an ample supply of easy-to-catch fish and the crocs and otters are never hungry.
"The large individual that was caught last year actually crawled on to the main bridge to sun-bathe and that caused a panic. It probably just got really comfortable with his new home! Anyway, he was driven back into the river…
"There should not be a bias toward the presence of crocs at Buloh. They are very much part of the mangrove ecosystem and if left alone, they will do likewise. Following the rules of the reserve and not wandering off the designated paths and boardwalks will ensure the safety of all who visit Buloh."
KC has this to say: "…from a safety point of view, I think Sungei Buloh should now educate visitors about crocodiles in the reserve. Anyways, Sungei Buloh being a wildlife sanctuary, the crocodiles should be well protected from poachers and others. Then we can have more crocodiles there. Maybe the staff at the entrance should also alert visitors about the possibilities of being bitten by a Shore Pit Viper if they come in their shorts and slippers etc… So what I am saying is that visitors to Sungei Buloh should be made more wildlife savvy."
And according Keith Hiller who do volunteer guiding there, "On all the guided tours we also give this warning (about crocodiles)."
The last say came from Subaraj who wrote: "…more can always be done to educate the public about the need to be careful while enjoying the joys of nature. The general public still does not understand the difference between a created public park and a nature reserve/park and behave the same way at both. …School kids running wild, treasure hunts and huge family days are not entirely appropriate in our limited and fragile nature reserves."
Input by KC Tsang, R Subaraj, Keith Hiller; images by KC.