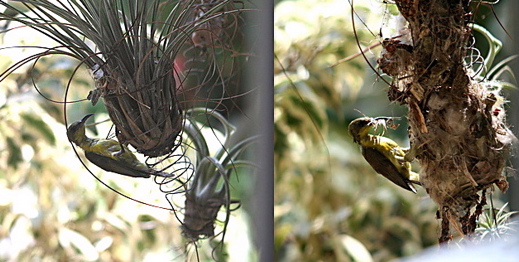 Lam Chun See lives in a house popular with nesting birds. In late June 2007 a pair of Yellow-vented Bulbuls (Pycnonotus goiavier) visited his place and decided to set up home in his balcony. After a few days of hard work, before their home was even completed, the pair mysteriously left, leaving a mess of leaves, twigs, moss and other stuff on his balcony floor. As he wrote in his blog, "I don't know what caused them to abandon their project. I don't think it was lack of resources. Maybe they didn't like my hardworking maid disrupting their project every morning when she cleaned the balcony. Or they were upset with my intrusion into their privacy when I mounted my camera on a tripod just a few feet from their nuptial bed. In any case, my family was quite disappointed at this rejection."
"Before long, another pair of birds came looking for a home. This time it was a female sunbird. And she started building her nest on the very same bromeliad plant that the bulbuls did (above).
"Again, after the nest was completed, the sunbirds also left without moving in to their new home (left)."
It is possible that the bulbul's nest was raided by some bird or other. The clue is the mess of nest materials lying on the ground. As for the sunbird's nest, it has to be another raid, this time not destroying the nest. Or can it be that the bird was building a trial nest?
Anyone with other possibilities?
On 16th July 2007, Chun See wrote:
"I was mistaken when I said that the sunbirds (Yes, there are two of them. The other one has blue colour) have deserted their nest. They do come and stay in the nest occasionally, but it is very difficult to photograph them because the entrance to the nest is very small. Unlike the usual bowl-shaped nest, this one has just a tiny hole. Also, the entrance is facing away from our house, and because the balcony is narrow, there is no way to go around to photograph them without disturbing the bird(s)."
Lam Chun See
Singapore
July 2007