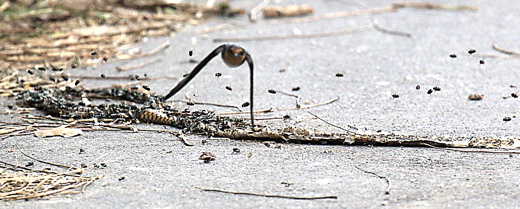 As Paul Chan was driving along Choa Chu Kang on the morning of 27th June 2007, he came across a decomposing snake lying across the road (above). It was obviously killed some time ago as it tried to slither across the busy road.
As Paul wrote in the Pigeon-holes e-forum: "the carcass had attracted a bunch of flies, which in turn attracted the swallows! It was very interesting watching the swallows go for the flies. Every time the swallows swooped down, the flies would scatter, and then almost immediately, congregated back above the snake. There must have been at least five to six birds going at it."
The bird has been identified as Pacific Swallow (Hirundo tahitica) (left). This common resident, formerly found largely in the coastal areas, is now seen all over the island. The other swallow, the Barn Swallow (Hirundo rustica), is a common winter visitor and passage migrant. It is distinct from Pacific in the presence of a black breast band and deeply forked tail.
The swallow feeds on insects, mainly flying ants. These are caught on the wing, together with flies, beetles, termites.
They often perch in pairs on a branch with a clear view of a bare area, waiting for passing insects. In this case the birds were taking advantage of the flies around the rotting snake, making multiple swooping flights to pick out the flies one by one.
Paul Chan
Singapore
June 2007
(Image of snake by Paul Chan and of swallow by Johnny Wee.)